Butcher House
A butcher house is a small outbuilding (comparable in size to a summer kitchen) that was used for cutting, packaging, and/or processing meats. Frame is the predominant construction material used for these buildings, and gable roofs are the most common roof type. These are usually one story buildings with a door in the gable end or eaves, and several windows to admit light. Their footprint is usually rectangular. They are located close to the house, but usually not as close as a summer kitchen would be. Most appear to date from between c. 1875 and the mid-twentieth century. They appear most commonly in the North and West Branch region, and in the Great Valley. Inside, tables and shelves provided work space, and some of these buildings housed a stove or set-kettle. The relatively high degree of finish for some of these buildings, and their siting, suggests a possible retail function. In other parts of the state, people used the term "butcher house," to refer to buildings actually containing facilities for rendering, scalding, etc. The nomenclature therefore varies significantly. The butcher house signifies mixed-gender, neighborhood labor patterns; women and men collaborated to make scrapple, sausage, cut meats and so on.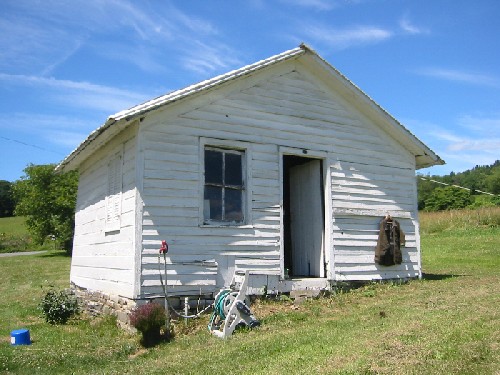 Butcher House, Columbia County, c. 1900
This building is sited near the house. It does not contain any facilities for cooking.
The owner thinks it was used for cutting up meat while the actual butchering was
done outdoors. A pig shed is in the barn about 75 yards away.

Butcher house, Heidelberg Township, Lehigh County, c. 1925.
(Site 077-HE-007)

Set kettle in butcher house, Heidelberg Township, Lehigh County, c. 1925.
(Site 077-HE-007)