English Barn
The "English" barn is also called the "Yankee" barn, "Connecticut" barn, "three-bay threshing barn," or "thirty by forty," the last giving its characteristic dimensions. An English barn is a one-story barn that is not banked. It has three bays organized crosswise to the roof ridge - one for livestock, a central threshing floor, and a mow for hay, straw or sheaves. Sometimes the third bay was used as a granary. A central door, in the eaves side, leads to the threshing floor.
The English barn is almost always constructed of timber post-and-beam framing. This type of barn was common in New England and New York state and migrated from there to Northern Pennsylvania. English Barns also appear in other regions, especially Southeastern Pennsylvania. The type exemplifies a very small-scale, low-mechanization, diversified agriculture. In Pennsylvania, it flourished in the period from about 1790 to 1840.
For further description of the English barn, see Thomas Hubka, Big House, Little House, Back House, Barn.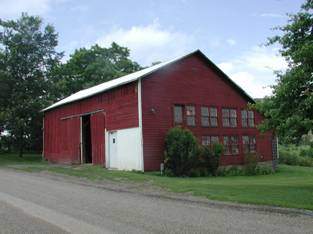 Sullivan Township, Tioga County
This photo shows how the English barn is not banked, and how
it is divided into three bays, accessed through sliding doors
located in the eaves side, to the central bay. This barn has
been extended on one side and adapted for poultry.

Schematic floor plan for an English barn, after Henry Glassie's drawing, in
"The Variation of Concepts Within Tradition: Barn Building in Otsego County, New York."
Geoscience and Man 5 (June 10, 1974), 183