English Lake District Barn
"English Lake District" barns frequently appear in Southeastern Pennsylvania. They are similar in function to Pennsylvania barns. For instance, in both barns the bottom is used to house animals while the top can be used to store hay and straw, as well as allow for the threshing of grains. Additionally, "English Lake District" barns are similar in fuction to what Thomas Visser refers to as "Side Hill English" barns, also known as "English Bank" barns.
However, "English Lake District" barns differ from Pennsylvania barns in several ways. First they are not always banked; they may just have a ramp. Second, they are commonly made from stone. Finally, they do not have forebays, instead they contain pent roofs which shelter the entrance doors to the stables below. It is believed that these barns derive their name from those found in the northwestern section of England known as the English Lake District.

"English Lake District" barn with rear addition, Marple Township, Delaware County, date unknown.

"English Lake District" barn, Springfield Township, Bucks County, c. 1810.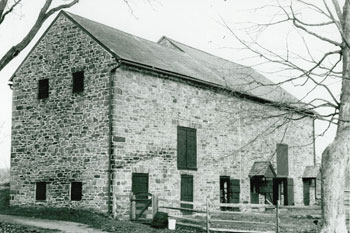 Front and rear elevations of "English Lake District" barn, Solebury Township, Bucks County
The barn features a double ramp, and was constructed in two sections. The first section (foreground) was constructed in 1796, and the larger section featuring a higher roofline was constructed in 1813.