Granary
A granary is a structure devoted to storing threshed grain. Whether grown as a cash crop or for animal feed, small grains (principally wheat, oats, barley, and rye) were a valuable and highly vulnerable component of the diversified farm's product mix. So, secure storage for small grains has consistently been a priority. (Corn, another small grain, was stored in the ear in a specialized corn crib.)
A granary's typical characteristics include the following: wood construction; tight boarding, thus few if any windows; gable end pass doors and entry doors; interior bins, partitioned from one another; interior walkway. Very often, the granary was elevated off the ground, as a means of deterring rodents.
Freestanding granaries are common throughout the state. Integral granaries can also be found in many barn interiors; they were more or less standard in the Pennsylvania Barn.

Granary, Osceola Townhsip, Tioga County, c. 1900-1925.
(Site 117-OS-001)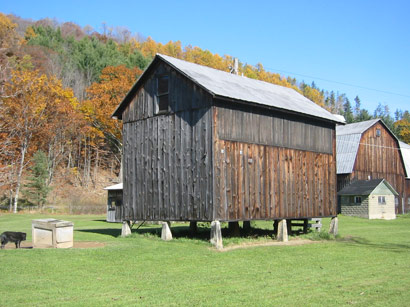 Granary, Potter County, early 20th century.

Dundore Farm Granary, Berks County, c. 1840.
(Image from the Historic American Buildings Survey,
Library of Congress, Prints and Photograph Division)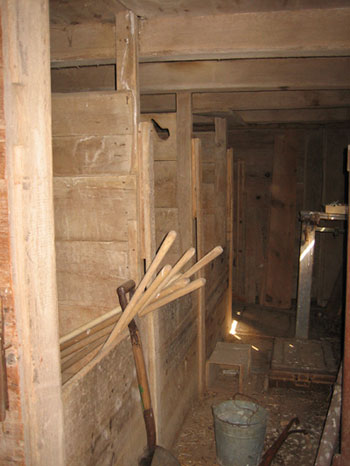 Barn granary showing exterior walls, passageway, grain bins, and door to outside.
Lynn Township, Lehigh County, c. 1875. (Site 077-LY-004)
Note
This is a static, archived version of the PHMC Pennsylvania Agricultural History Project website which will not be updated. It is a snapshot of the website with minor modifications as it appeared on August 26, 2015.
Pages in this Section