Horse Barn
Occasionally a farm will have a freestanding horse barn. A horse barn tends to be gable roofed, wood framed, and built on a level. It has large entry doors in eaves or gable, and openings indicating where horse stalls are located. Usually there is a loft for hay. Horse barns are found in scattered locations throughout the state.

Horse barn, Tioga County, 20th century.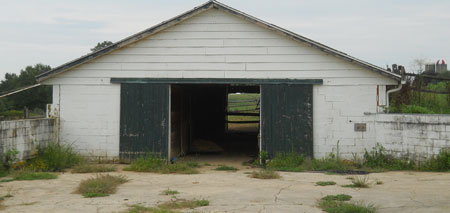 Horse barn, Londonderry Township, Chester County, c. 1950-70.
(Site 029-LN-002)
Note
This is a static, archived version of the PHMC Pennsylvania Agricultural History Project website which will not be updated. It is a snapshot of the website with minor modifications as it appeared on August 26, 2015.
Pages in this Section