Milking Parlor
The milking parlor came into use during the World War II era. Under the older system, human milkers moved from cow to cow, and carried milk from barn to milk house. With milking parlors, the cow moved to the milking machine. The equipment was frequently organized such that the human attendant did not have to stoop, nor to move from one cow to another, nor even collect milk, since it was pumped directly to cans or bulk tanks. Milking parlors were low, relatively small, usually concrete block structures appended to a barn, sometimes integrated in a newer barn.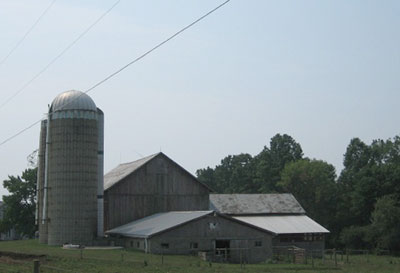 Milking parlor, Crawford County, 20th century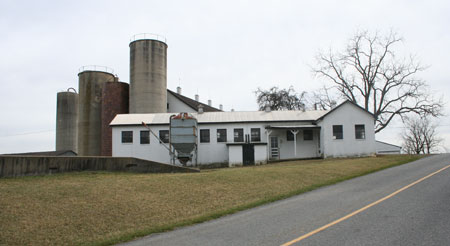 Milking parlor, Peters Township, Franklin County, c. 1950-70.
A walkway links the parlor to the barn.
Note
This is a static, archived version of the PHMC Pennsylvania Agricultural History Project website which will not be updated. It is a snapshot of the website with minor modifications as it appeared on August 26, 2015.
Pages in this Section