Silo
A silo is an airtight structure that holds fresh organic matter (moisture content 50-65 percent) destined for winter animal feed. It is filled with shredded or chopped grass, corn, or sometimes other plant material, which ferments into a highly nutritious and palatable feed. Silage feed resulted in significant productivity increases for dairy cows, and also permitted marginal farms to carry more animals. Ensilage was first publicized in the US in the late 19th century when the results of experiments in Europe became known. However, it did not become widespread until dairying was taken up more seriously.
Silos can be constructed horizontally in pits, or vertically. Most silos of the first half of the twentieth century were vertical. Early silos were sometimes placed inside the barn, rectangular in shape, and of wood construction. These were quickly supplanted by round vertical silos located outside the barn, usually in a spot that would permit efficient filling (usually from holes in the top) and unloading (usually from a tier of doors from which silage was thrown down an exterior chute, which contained a ladder for access to the doors.) Favored materials include special curved brick; hollow tile; galvanized iron; and systems depending on interlocking rings of poured concrete. Cement staves became popular after about 1910 and concrete in one form or another was the most popular until the advent of Harvestore silos in the later 20th century. Early silos were filled using conveyor belts; silo filling was a community activity. They were originally unloaded by hand, from the top. Later, Archimedes screw systems conveyed silage into the barn.

Brick silo, Lawrence County, c. 1930.

Cement stave silo, Washington County, c. 1960.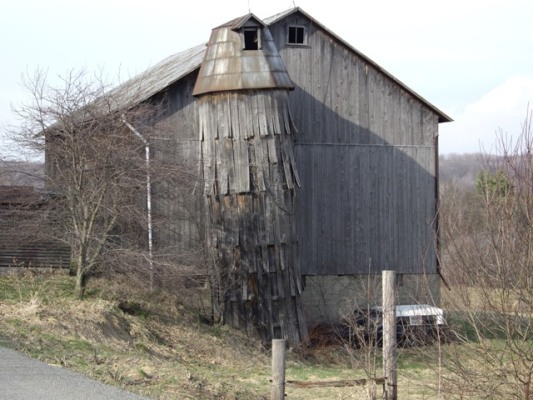 Wood stave silo, Crawford County, early twentieth century.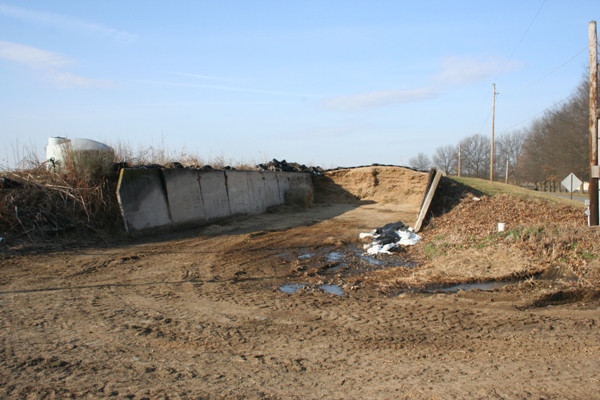 Concrete-lined Pit Silo, Franklin County, unknown date.
Pit silos (trench silos) are an economical way to store silage. After being put in the pit, the silo is covered with plastic.
Often tires are placed on top to anchor the plastic. Pit silos are unlikely to be more than 50 years old.
This pit silo is nearly empty. The tires which held down the plastic cover can be seen at left.

Metal silo, Mercer County, c. 1940.

Rectangular wood silo, Washington County, c. 1925.

Stone silo, Londonderry Township, Chester County, c. 1890.
(Site 029-LN-005)

Two poured concrete ring silos (c. 1970),
a concrete stave silo (c. 1950),and two tire silos (c. 2000),
Highland Township, Chester County. (Site 029-HI-002)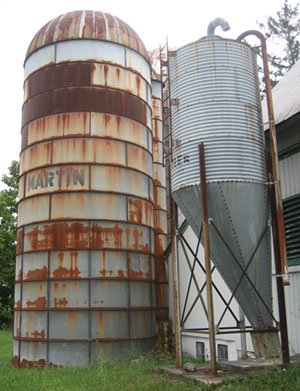 Metal silo, east of Aaronsburg, Centre County, c. 1930-50.

Two beveled block silos (c. 1925) and a concrete stave silo (c. 1950),
Mifflinburg, Union County.