Wash House
A wash house was built for the heavy work of washing clothes. Sometimes it was also used for other tasks such as processing meats. Its characteristics are similar to those of a butcher house or summer kitchen, so there may be overlap with these functions. A wash house, like a summer kitchen, has a hearth or fireplace and chimney, usually on one gable end; but more often it would have a heavy set-kettle setup rather than a fireplace or cookstove. Wash houses tended to be gabled, small rectangular structures, made of wood frame or masonry. They often had multiple windows. A wash house would likely have a lesser degree of finish than a summer kitchen, and perhaps be sited further from the house than would be typical for a summer kitchen.

Wash house, Tioga County, c. 1960.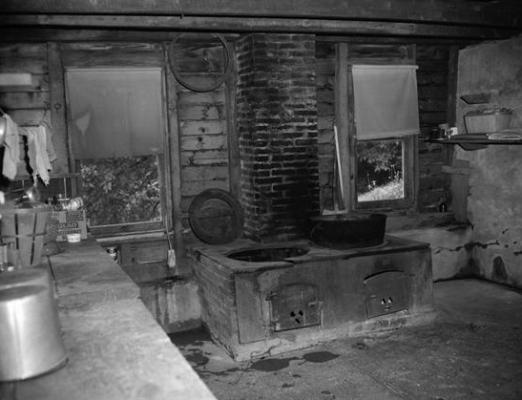 Wash house interior, Berks County, c. 1920, demolished 1977.
(Image from the Historic American Buildings Survey,
Library of Congress, Prints and Photograph Division, Digital ID hhh pa0168.)
Note
This is a static, archived version of the PHMC Pennsylvania Agricultural History Project website which will not be updated. It is a snapshot of the website with minor modifications as it appeared on August 26, 2015.
Pages in this Section