Gower
Overview
The Gower site (36 So 6) was located on a saddle between Snyder's Hill and the mesa-like Fort Hill. It was the last site excavation initiated by the WPA in Somerset County, with fieldwork taking palce between late December 1939 and early April 1940. Gower has a palisaded component referred to here as Gower I and a semi-circular arc of dwellings designated Gower II. The relationship between these occupations is not clear. Gower I dates to ca. 1275 A.D. and the age of occupation for Gower II is unknown. The three dwellings in Gower I were inhabited by around 40 villagers and 46 people lived in Gower II's six houses. Dwelling overlap in Gower I and Gower II suggest possible reoccupation after seasonal or longer term abandonment at both components.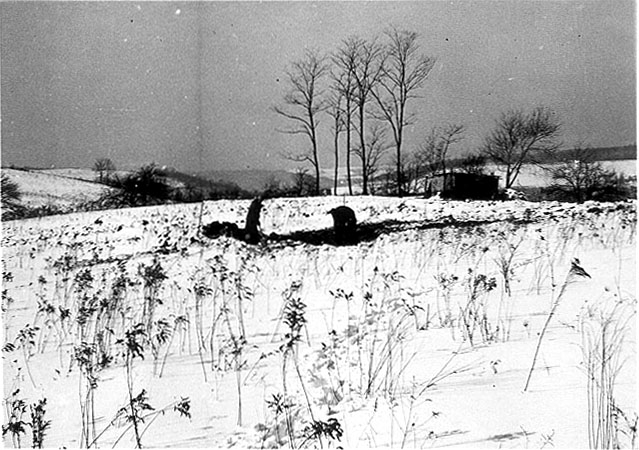 Winter excavations at the Gower Site.
Site Maps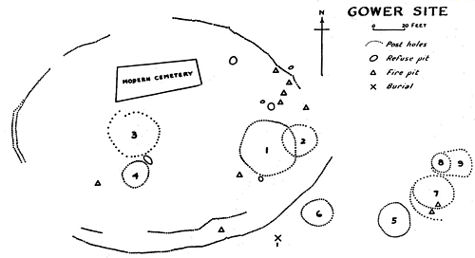 Site map of Gower produced by Edgar Augustine in 1942.

Map of Gower showing the two possible components. Gower I consists
of the shaded dwellings surrounded by a palisade and Gower II
is the semi-circular arc of unshaded dwellings.
Site Scenes
All images date to 1939 or 1940. Click image for larger version.

Excavating at Gower

Excavating at Gower

Winter excavations at
Gower with Fort Hill
visible in the distance


Winter excavations at
Gower with Fort Hill
visible in the distance

Keeping warm during
winter excavations
at Gower

Winter at Gower

Winter at Gower

Winter at Gower

Winter at Gower

Excavated rockshelter
with no cultural remains
on the Gower farm
References
Hart, John P.
1993 Monongahela Subsistence-Settlement Change: The Late Prehistoric Period in the Lower Upper Ohio Valley. Journal of World Prehistory 7:71-120.
Means, Bernard K.
1998 Archaeological Past and Present: Field Methodology from 1930s Relief Excavations in Somerset County, Pennsylvania and its Relevance to Modern Archaeological Interpretations. Journal of Middle Atlantic Archaeology 14:39-63. Available online.
1999 Monongahela Mortuary Practices in Somerset County, Pennsylvania: Observations and Implications. Pennsylvania Archaeologist 69 (2):15-44.
2005a New Dates for New Deal Excavated Monongahela Villages in Somerset County. Pennsylvania Archaeologist 75 (1):49-61.
2005b Late Woodland Villages in the Allegheny Mountains Region of Southwestern Pennsylvania: Temporal and Social Implications of New Accelerator Mass Spectrometry Dates. Uplands Archaeology in the East VII and IX, edited by Carole L. Nash and Michael B. Barber, pp. 13-23. Archeological Society of Virginia Special Publication 38-7.
2006a Circular Reasoning: Drawing on Models of Ring-shaped Village Spatial Layouts To Examine Villages in Late Prehistoric Pennsylvania. Unpublished Ph.D. dissertation, Department of Anthropology, Arizona State University, Tempe. University Microfilms, Ann Arbor.
2006b The social implications of a new method for estimating the number of residents within Monongahela houses from their floor areas. Journal of Middle Atlantic Archaeology 22: 31-50.
2007 Circular Villages of the Monongahela Tradition. The University of Alabama Press, Tuscaloosa.