Museums and Tours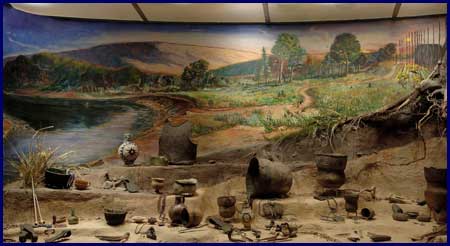 Visit a local museum and experience the rich and diverse history of Pennsylvania.
The following is a list of museums in Pennsylvania which have archaeological collections from our state. They represent a wonderful opportunity to observe the material remains of Pennsylvania's historic and prehistoric past. We would suggest that these institutions be contacted for specific types of collections, hours and admission prices.
Twenty-six historic sites and museums are administered by the Pennsylvania Historical and Museum Commission, the official history agency of the Commonwealth of Pennsylvania.
Visit the Pennsylvania Trails of History for more information.
Adams County
Adams County Historical Society
368 Springs Avenue
Gettysburg, PA 17325-4325
717-334-4723
Allegheny County
Carnegie Museum of Natural History
4400 Forbes Avenue
Pittsburgh, PA 15213
412-622-3131
Berks County
Reading Public Museum
500 Museum Road
Reading, PA 19611-1425
610-371-5850
Bradford County
Bradford County Historical Society
109 Pine Street
Towanda, PA 18848-1701
610-371-5850
Tioga Point Museum
724 S. Main Street
Athens, PA 18810
570-888-7225
Bucks County
Mercer Museum of the Bucks County Historical Society
84 South Pine Street
Doylestown, PA 18901-4999
215-345-0210
Historic Langhorne Association
160 W. Maple Avenue
Langhorne, PA 19047
215-757-1888
Cambria County
Cambria County Historical Society
615 N. Center Street
Ebensburg, PA 15931-1122
814-472-6674
Columbia County
Columbia County Historical and Genealogical Society
PO Box 360
225 Market Street
Bloomsburg, PA 17815-0360
570-784-1600
Cumberland County
Shippensburg Historical Society
52 West King Street
Shippensburg, PA 17257-1212
717-532-6727
Dauphin County
Hershey Museum
170 W. Hershey Park Drive
Hershey, PA 17033-2727
717-534-8939
Historical Society of Dauphin County
219 South Front Street
Harrisburg, PA 17104-1619
717-233-3462
Historical Society of Millersburg & Upper Paxton Township Museum
330 Center Street
Millersburg, PA 17061
717-692-4084
Delaware County
Friends of the Caleb Pusey House
15 Race Street
Upland, PA 19015-2413
610-874-5665
Greene County
Greene County Historical Society
918 Rolling Meadows Road
Waynesburg, PA 15370-0127
724-627-3204
Jefferson County
Jefferson County Historical Society
P.O. Box 51
172-176 Main Street
Brookville, PA 15825
814-849-0077
Lancaster County
North Museum of Natural History and Science
400 College Avenue
Lancaster, PA 17603-3386
717-291-3941
Lebanon Count
Historic Schaefferstown, Inc.
111 N. Market Street
Schaefferstown, PA 17088-0307
717-949-2244
Lehigh County
Museum of Indian Culture
2825 Fish Hatchery Road
Allentown, PA 18103-9801
610-797-2121
Luzerne County
Greater Hazleton Historical Society
55 N. Wyoming Street
Hazleton, PA 18201
570-455-8576
Luzerne County Historical Society
69 South Franklin Street
Wilkes-Barre, PA 18701
570-823-6244
Lycoming County
The Thomas T. Taber Museum of the Lycoming County Historical Society
858 West Fourth Street
Williamsport, PA 17701-5824
570-326-3689
Mercer County
Mercer County Historical Society
119 South Pitt Street
Mercer, PA 16137-5001
724-662-3490
Monroe County
Monroe County Historical Association
900 Main Street
Stroudsburg, PA 18360-1604
570-421-7703
Northampton County
National Canal Museum
2750 Hugh Moore Park Road
Easton, PA 18042-7743
610-923-3548
Signal Museum and Northampton County Historical and Genealogical Society
342 Northampton Street
Easton, PA 18042-4505
610-253-1222
Northumberland County
Northumberland County Historical Society, Inc.
1150 North Front Street
Sunbury, PA 178011-1126
570-268-4083
Philadelphia County
Atwater Kent Museum of Philadelphia
15 South 7th Street
Philadelphia, PA 19106-2313
215-685-4830
Historic Rittenhouse Town, Inc.
206 Lincoln Drive
Philadelphia, PA 19144-4903
215-438-5711
Independence National Historic Park
143 S. 3rd Street
Philadelphia, PA 19106
215-965-2305
University of Pennsylvania Museum of Archaeology and Anthropology
33rd and Spruce Streets
Philadelphia, PA 19104-6324
215-898-4000
Pike County
Pike County Historical Society
PO Box 915
608 Broad Street
Milford, PA 18337-0915
570-296-8126
Potter County
Potter County Historical Society
308 N. Main Street
Coudersport, PA 16915
814-274-4410
Snyder County
Snyder County Historical Society
30 E. Market Street
PO Box 276
Middleburg, PA 17842-0276
570-837-6191
Washington County
Meadowcroft Rockshelter and Historic Village
401 Meadowcroft Road
Avella, PA 15312
412-454-6000
Wayne County
Wayne County Historical Society
810 Main Street
Honesdale, PA 18431-0446
570-253-3240
Westmoreland County
Fort Ligonier Museum
216 South Market Street
Ligonier, PA 15658-1242
724-238-9701
York County
Indian Steps Museum
205 Indian Steps Road
Airville, PA 17302
In Season - 717-862-3948, Off Season - 717-891-4828
York County Heritage Trust, Museum & Library
250 East Market Street
York, PA 17403
717-848-1587