Pennsylvania Architectural Field Guide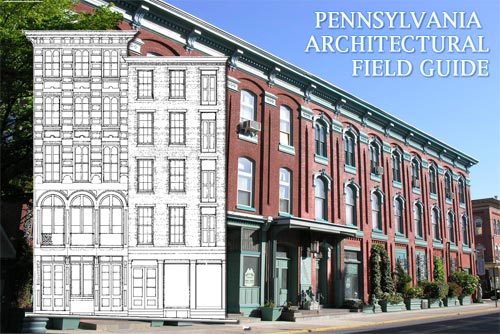 This website has been created by the Pennsylvania Historical & Museum Commission's Bureau for Historic Preservation to provide a general background on the architectural types and styles prevalent in our state. This guide provides information about styles with coordinating photos and lists of identifying features to aid in the evaluation, understanding and appreciation of historic buildings. This website represents more than two years of staff effort, however the resulting field guide is by no means a definitive and exhaustive product. We welcome your input and hope you will share photographs which portray the depth and diversity of Pennsylvania's architectural history.
Contact
If you have photos or comments you would like to share regarding the Pennsylvania Architectural Field Guide or more general concerns, please contact:
Bureau for Historic Preservation
Pennsylvania Historical and Museum Commission
Commonwealth Keystone Building
400 North Street, 2nd Floor
Harrisburg, PA 17120-0093
717.783.8946
Comments via email should be directed to Pamela Reilly.