Industrial Historic Landscapes
Industrial historic landscapes exist throughout the state and take a wide variety of forms. Each industry depending upon its purpose, date of construction, size, level of production and geographic location has a distinctive historic appearance.
Industrial landscapes might include early iron forges, such as Cornwall Iron Furnace in Lebanon County or steel mill complexes such as Bethlehem Steel Company in Steelton, Dauphin County or Bethlehem, Lehigh County. Other industrial historic landscapes might include bituminous and anthracite mining complexes, glass, textile, or brick factories, and railroad complexes like the Enola Yards in Cumberland County or the Sayre Railroad Yard in Sayre, Bradford County. Brewery complexes such as those found in the Brewerytown Hictoric District in Philadelphia or the Yuengling Brewery in Pottstown are also examples of historic industrial landscapes.
Industrial complexes are made up of a variety of special purpose buildings, usually surrounded by specific landscape features important to each industry-- rivers or streams for water power or shipping access, railroad lines for product transportation, proximinity to natural resources like coal veins or underground minerals. Sometimes worker housing is a part of the historic industrial landscape and included within the historic district boundaries for the resource. Groups of related industries may form historic districts as well, such as the clusters of knitting mills in Reading.
Photos

Silk Mill, Nazareth, Northampton Co.

Clear Spring Mill, York Co.

Breaker #4, Eckley Miners Village, Luzerne Co.

Globe Knitting Mills, Montgomery Co.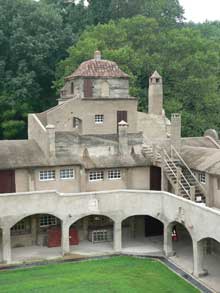 Moravian Tileworks, Doylestown, Bucks Co.