Suburban Historic Landscapes
Only recently have we begun to look at suburban landscapes as potential historic resources. While urban or rural historic districts ususally involve older resources, suburban landscapes of 20th century buildings can be both historic and significant. In the late 19th and early 20th centuries some neighborhoods were developed as "streetcar suburbs," extending residential settlements into those areas served by this form of urban transportation. These clusters of turn of the century or early 20th century houses often have architectural merit as fine collections of the styles popular in that era, especially Queen Anne, Colonial Revival, Tudor Revival and Craftsman or Bungalow styles. Tree lined streets and landscaped parks and public areas area an important component of such suburban historic districts. Many of the communities that developed along the Main Line of the Pennsylvania Railroad west of Philadelphia are identifiable as such turn of the century historic surburban landscapes.
Other planned surburban neighborhoods developed as part of the early 20th century City Beautiful movement - a nationwide effort to beautify the urban environment and provide improved recreational and public works amenities. With its formally styled homes set into a lavishly landscaped, naturalistic environment, the Bellevue Park Historic District in Harrisburg is an excellent example of this effort. Designed in 1910 by Warren Manning, a prominent landscape architect who had previously worked with Frederick Law Olmstead, Bellevue Park incorporates all the elements of a early landscaped suburban neighborhood: curvilinear streets, underground utilities, created and natural ponds, streams and parks, and architect designed homes executed in the popular revival styles of the early 20th century. In the midst of this designed suburban landscape is "Breeze Hill," the 1873 Italianate Villa mansion once owned by J. Horace McFarland, a local civic leader, investor in the development of Bellevue Park and national force in both the City Beautiful movement and the natural landscape conservation efforts. The plan of Bellevue Park represents the work of two visionary leaders in this field.
As all the post World War II suburbs turn 50 years old, rendering them potentially eligible for inclusion in the National Register of Historic Places, new attention is being paid to what constitutes a historic surburban landscape or district. Levittown in Bucks County is a classic example of a historically significant post WWII surburban landscape. At the time of its creation, it represented a new approach to residential development, involving dependence on the automobile, affordable housing that could be quickly built to accommodate the booming post-war baby boom population, curving roads, shopping centers - not historic downtowns, and neighborhood recreational amenities like parks, pools and playgrounds. While many of the original homes of Levittown have been altered and expanded in the years since their construction in the 1940s and 1950s, the overall plan and layout of the community is still discernable.
Historic as the story of Levittown is, it also represents the beginning of "suburban sprawl," a practice where large tracts of previously agricultural land are swallowed up to create residential neighborhoods far removed from the traditonal urban core. The many surburban developments that followed the successful Levittown formula may or may not have historic merit. An understanding of the overall context of such development, and the planning, design features, architectural significance and degreee of intactness of the area under consideration are required to determine the historic value of each surburban neighborhood.
For help in identifying historic surburban landscapes and resources consult the National Register Bulletin Historic Residential Suburbs, an extensive and well-researched study on this topic.
Photos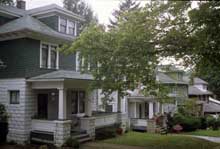 Four Square Houses, Oil City, Venango Co.

Bungalow, Camp Hill, Cumberland Co.