Late Victorian Period 1850 - 1910
The Late Victorian Period covers the later half of the 19th century, for a portion of the true reign of Britain's Queen Victoria (1837-1901) for which this era is named. This was the time period in American architecture known for intricate and highly decorative styles such as the Second Empire, Romanesque Revival, Victorian Gothic, Queen Anne, Stick/Eastlake, Shingle, Renaissance Revival and Chateauesque. All of these style are often described as "Victorian" and indeed may buildings of this era borrowed stylistic elements from several styles, and were not pure examples of any.
The Late Victorian Period was a time of growth and change in America. Advances in building technology such as the development of balloon framing and factory-built architectural components made it easier to build larger, more complex and more decorative structures. The expanding railroad system allowed these products to be transported across the country at a more reasonable cost. Heretofore luxury elements could be employed in a wide variety of more modest buildings. It was an expansive time in American culture and the buildings of this period reflect this. Most Victorian styles look to historic precedents for inspiration, but the architectural designs of the era were not exact replicas of those earlier buildings. The tall, steeply roofed, asymmetrical form of Victorian era buildings is based on a Medieval prototype, with a variety of stylistic details applied. Elements of the Greek Revival, Gothic Revival, and Italianate styles continued to appear, but often in a more complex form, in combination with one another. New stylistic trends like the Second Empire style, Queen Anne style, Stick/Eastlake style, Romanesque Revival, Renaissance Revival and Chateauesque style, borrowed from those previous styles, but offered new shapes, forms and combinations of decorative features.
Styles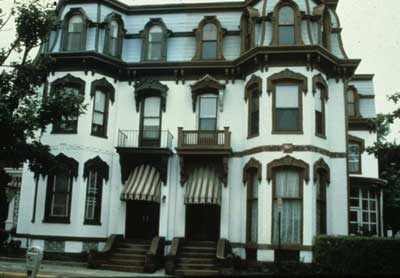 French Second Empire or Mansard Style, Mechanicsburg, Cumberland County