Preservation of Historic Burial Grounds and Cemeteries in Pennsylvania
Burial Grounds and cemeteries are among the most valuable of archaeological and historic resources. They are evidence of various settlement patterns, burial practices, cultural and religious influences, economic development, social relationships, and genealogy. They may also represent the only reminder of an influential person or group, be a significant example of landscape architecture, or simply be public space available for solitude, contemplation, and reflection.
Unfortunately, burial grounds and cemeteries are also one of the most fragile resources to preserve and protect. The challenge of protecting burial resources is one of the most confusing and complicated endeavors a local preservation organization can undertake. The threats to burial and cemetery resources include: misunderstanding of existing burial statutes and laws; uncontrolled development and construction; damage from weathering, vegetation and vandalism; deferred and inappropriate maintenance; and the lack of information available to the general public.
The purpose of this website is to provide resources to parties interested in learning more about cemetery preservation. The contents of the page supply information on the laws, guidelines and tools for preservation, and the Bureau for Historic Preservation's (BHP) general cemetery survey.
The Preservation of Historical Burial Grounds and Cemeteries in Pennsylvania website was funded by a grant from the Pennsylvania Historical and Museum Commission to the Woodlands Trust for Historic Preservation. The website project was managed by Jean K. Wolf, Executive Director of Woodlands Trust for Historic Preservation. The Project Team includes John Carr, Milner+Carr Conservation, LLC; Frances Ford, Charleston, SC; Scott Kreilick, Kreilick Conservation; and Judy Peters, University of Pennsylvania in collaboration with the Graduate Program in Historic Preservation, University of Pennsylvania. PHMC project team includes Scott Doyle, Grant Program Manager; D. Noel Strattan, GIS Coordinator; Lee Zelewicz, Intern and web page developer; and Amanda Shafer, Webmaster. Thank you to each member of the project team for their contributions to the development of the website.
Churchyard (St. Paul's United Methodist Church,
Union Twp., Berks County)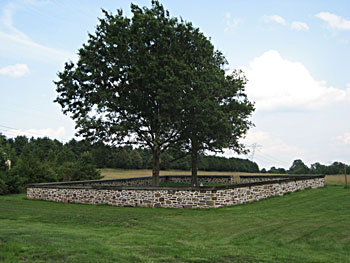 Family Burial Ground (Wentz Family,
Worcester, Montgomery County)