1900-Present: Lawn-Park Cemeteries and Memorial Parks
Lawn-Park Cemeteries
The Lawn-Park Cemetery movement began after the Civil War and continued into the 1920s. These cemeteries are characterized by a pastoral, park-like or lawn setting but are smaller in scale and less picturesque than the larger, Rural Cemeteries that also served as parks. Lawn-Park Cemeteries were rationally organized and more formal in appearance with family monuments set in large lawn areas and trees and shrubs critically placed. This aided the landscaping staff, now using power mowers. Additionally, standardized, industrialized granite cutting achieved new designs and assemblages of tombstones, all creating a more uniform, less sculpted look in cemeteries. Changing attitudes towards death, brought about by hospitals and professional funeral homes that handled the dying and the dead, meant this new balance of formalism with nature was accepted. Reversing some of the non-sectarian aspects of the earlier movements, some sections or the entire cemetery could be devoted to specific religious or ethnic groups. An example of such a mixture is Merion Memorial Park in Bala Cynwyd. The cemetery is known for serving both the African American and Chinese communities. The Chinese section stands out, with distinctive markers and incense burners in the landscape.
Monuments are typically of marble or granite. Granite is seen as the more durable stone, and can be used for both large three-dimensional designs or small bevel markers.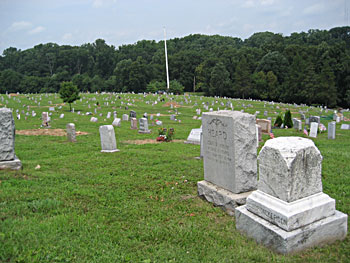 Lawn-Park Cemetery
Lawn-Park Cemetery
Memorial Parks
The final phase of cemetery development is the Memorial Park that began with the 1913 establishment of Forest Lawn Memorial Park in Glendale, California . Memorial Parks are intended to be large sections of pastoral and uniform lawn areas for flat stone or bronze markers that do not stand out above the ground. Some parks use uniform rows of straight plots, coupled with back-to-back placement of equal-sized headstones. Trees and shrubs are minimal or on the perimeter of a section. Sections may be distinguished by special above-ground sculptures or memorial arches. Memorial Parks use strict guidelines to maintain the imposed uniformity. There is even an emphasis on automotive circulation networks rather than pedestrian.
Monuments are either flush-to-the-ground markers in granite or marble or are flat cast-bronze markers set on granite bases. Uniform marker types may be required at such burial sites.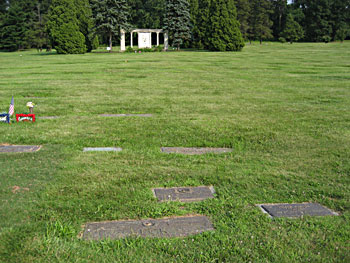 Memorial Park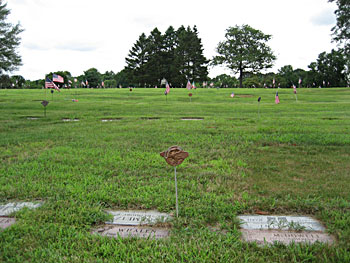 Memorial Park