Description of Railroad Riots - July 23, 1877
Images
Click images for larger versions.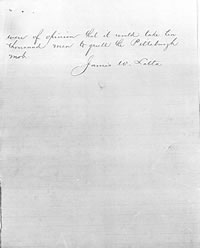 History
Record Group 10: Records of the Office of the Governor, Governor John F. Hartranft, Correspondence, Letter from Adjutant General John W. Latta to Governor Hartranft, July 23, 1877; and Manuscript Group 286: Records of the Penn Central Railroad Collection, Secretary's Office, PRR Library, Photograph of ruins of the PRR facilities in Pittsburgh, undated, by an unknown photographer.
By 1877, Pennsylvania's transportation industry had become a "big business." It could be said to have begun with the Philadelphia-Lancaster Turnpike that was completed by the late 1790s. It was followed in time by other improved roads. A generation later, canals were added to the state's transportation network. Then came the railroads in the 1830s and 1840s.
In the post-Civil War era, many types of businesses, including railroads, consolidated, creating large, impersonal corporations. The largest railroads that operated in the state were the Pennsylvania Railroad Company and the Baltimore and Ohio Railroad Company. Typical of industrial managers of the time, many leaders of the railroads operated autocratically, emphasized profits, and gave little consideration to their employees. In the summer of 1877, operators announced a pair of inflammatory changes. One was the increase on the Pennsylvania Railroad in the use of "double headers," trains with two locomotives, which would cut labor costs by reducing the number of conductors and brakemen needed on the trains. About fifty or sixty Pittsburgh railroaders anticipated losing their jobs. Those brakemen who remained feared for their safety as they were to handle twice as many cars on longer trains, which were more likely to come apart with one car crashing into another. Simultaneously, operators of the Baltimore and Ohio informed employees of a ten per cent cut in wages, the second in four years. Because of the technological changes and economic pressures, workers feared for their physical and financial survival.
Feeling insecure but not helpless, railroad laborers acted promptly and directly. Initially, they stopped trains, first in Martinsburg, West Virginia, and then in various railroad centers in the Northeast and Midwest. Disruptions became more violent in Pennsylvania than elsewhere, partly because it contained more miles of railroad track than most other states. Crowds of workers and their sympathizers interfered with traffic and destroyed property of the railroad companies in such rail centers as Easton, Reading, Mauch Chunk (now Jim Thorpe), Wilkes-Barre, Scranton, Harrisburg, Johnstown, and especially Pittsburgh. That city was particularly susceptible to a large-scale disturbance. It was a working class city which housed both major railroads, steel mills, planing mills, glass works, and other types of factories, with coal mines nearby. Its labor force was militant.
It 1874, iron workers had gone out on strike in resistance to a wage reduction. Its police and fire departments were understaffed because the city lacked funds to pay the men. When the violence in the railroad industry spread to Pittsburgh in mid-July1877, civic authorities were unable to deal effectively with it, especially when laborers in other industries joined the work stoppage and created a movement for a general strike. As the strike developed into riots, workers, their wives and children, and other sympathizers destroyed Pennsylvania Railroad facilities including locomotives, rolling stock, roundhouses, repair shops, and even the Union Station at Grant and Liberty Streets. Damage to the city was estimated at ten million dollars. At least twenty-five people were killed and many more were injured.
Much of the violence was the result of frustration and ineptitude. Railroad managers did not prepare or negotiate with the workers the changes that they attempted to implement arbitrarily. Their normal response to objectors was to fire them. When frustrated workers could not get a hearing, they stopped the trains. Managers such as Thomas A. Scott, President of the Pennsylvania Railroad, became frustrated with his dissatisfied employees and used his political influence to secure outside assistance. Because Pennsylvania's Governor John F. Hartranft was touring the West as Scott's guest in his personal railroad car, Scott appealed to the state's adjutant general, James W. Latta, for state militia to quell the Pittsburgh riots. When the local militia went over to the strikers, Scott persuaded Latta to send in a contingent from Philadelphia, assuming that they would not sympathize with Pittsburgh strikers. This decision was extremely unwise, for Pittsburghers knew that Philadelphia was the main headquarters of the Pennsylvania Railroad Company. They attacked the Philadelphia militia especially vigorously. Scott ultimately instructed Governor Hartranft to request federal troops to quell the riots, which the governor did, demonstrating clearly the influence of the president of the Pennsylvania Railroad over the Governor of Pennsylvania.
Eventually the riots subsided in Pittsburgh and elsewhere. They had cost the railroad companies heavily, the Pennsylvania Railroad in particular, and destroyed expansionist dreams of executives like Scott. Surprisingly, Pittsburgh rioters received light sentences. They and their counterparts at other rail centers had called attention to the plight of the workers. President Rutherford B. Hayes confided to his diary his desire for an alternative to the use of force, such as "education of the strikers" and "judicious control of the capitalists." Nevertheless, in Pennsylvania, there was little change in labor-management relations. During the summer of 1877 Governor Hartranft commissioned scores of private "Coal and Iron Police" to keep order in industrial areas. A year later, Pennsylvania's industrialists organized a "standing force," complete with reserves to deal with dissatisfied workers. By 1900, the companies' Coal and Iron Police had largely supplanted official municipal or county police systems in industrial disturbances. Not until several decades later did Pennsylvania's officials demonstrate a sufficient degree of independence from the state's industrialists to give labor greater ability to negotiate with management on the kinds of issues that contributed to the Railroad Strikes of 1877.
Transcript
Beaver Pa. July 23. 1877.
Gov. John F. Hartranft
Since my last burning of property has continued in Pittsburgh, depot, grain elevation, miles of cars, buildings and almost all property of P.R.R. pillaged and destroyed.
Harrisburg Arsenal was threatened but we got troops in time to save it, mob has possession of P.R.R. at Harrisburg round houses and depot, also west Philada. yards, Philada & Reading depot, and it is also reported by Col. Scott that the Reading, Lehigh Valley, North Penna. Phila, Wilmington & Baltimore will be under the special charge in twelve hours and a thorough strike inaugurated every where. No parallel in history of the world upon the strength of what we saw at Pittsburgh what was reported as existing elsewhere and what doubtless now exists everywhere.
Colonel Quay and I after Consultation called in your name upon the President for troops after having resisted entreaties from all quarters to do so for several days citizens and business men and others of military experience were of opinion that it would take ten thousand men to quell the Pittsburgh mob.
James W. Latta