Field Report to State Chairman about Women's Suffrage - July 20-August 8, 1915
Images
Click images for larger versions.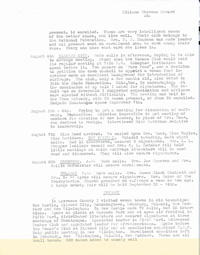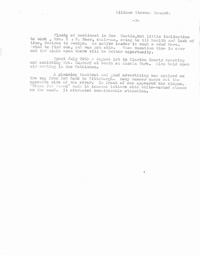 History
Manuscript Group 73: Liliane Stevens Howard Collection, "Field Report to State Chairman," July 20--August 8, probably 1915; three pages, 8 1/2" X 11", typescript.
The struggle for women's suffrage in Pennsylvania has a long history. While the founding Society of Friends (Quakers) considered men and women equal in God's sight and permitted women to speak during their religious services, they did not grant political rights. Throughout the Colonial Period (1681-1776), only adult males who owned property could vote. Upper class women confined their attention to managing their homes and social affairs, while middle and lower class women also participated in the family business in the shops and farms.
The role of women increased during the Revolutionary Period (1775-1783). They came to be regarded as "public benefactors," shapers of the minds of their husbands and children, "entrusted with the care and guardianship of the rising generation." Philadelphia women sewed shirts for the troops, and one, Betsy Ross, is said to have made the new nation's first flag. Although Pennsylvania's revolutionary political leaders broadened male voting by abolishing the property qualifications, they did not extend the vote to women. Indeed, Massachusetts's Abigail Adams' admonition to her husband John to "consider the ladies" as he and others formed a new political structure was one of the few expressions of a desire by women for a greater role in government. John Adams answered his wife's admonition with derision and laughter.
A more obvious precursor to the women's suffrage movement was abolitionism. By 1804, all states above the Mason-Dixon Line provided for the "gradual abolition" of slavery. (Pennsylvania in 1780 was the first to do so by legislative action.) Subsequently northerners expressed opposition to slavery in the South as well. In 1838, women founded the Philadelphia Female Anti-Slavery Society. After they and others were denied admission to an international anti-slavery convention in London in 1840 because of their gender, the women determined to hold a convention of their own at Seneca Falls, New York in 1848. There they declared that the rights of women required the same emphasis as the rights of slaves. Leaders, such as Pennsylvania's Lucretia Mott proclaimed that "all men and women are created equal" and demanded full political rights. In 1852, a Women's Rights convention was also held in West Chester, Pennsylvania.
The movement to abolish slavery succeeded during the 1860s, but the campaign for women's suffrage continued. At the celebration of the nation's Centennial Anniversary in 1876 in Philadelphia, 150,000 people gathered at Independence Square for patriotic ceremonies. Unknown to the planners, Susan B. Anthony, whose name was synonymous with women's suffrage, ascended a platform and read a suffragette's declaration of independence. Most of the men in the audience failed to note the connection between the Declaration of Independence that Thomas Jefferson wrote in 1776 and the one that Anthony read in 1876. The movement in Pennsylvania seemed to languish temporarily, as Anthony's age curtailed her activity and Mott died in 1880.
Two notable women were helpful in keeping the issue before the public. One was Carrie Chapman Catt of the National American Women's Suffrage Association (NAWSA), formed in 1890 from two earlier societies, who stimulated the national movement to greater activity. Also involved in the revival and ultimate success of the suffragettes in Pennsylvania was Liliane Stevens Howard. She grew up in Indiana under the influence of her mother, also a proponent of women's rights. By the early 1900's, she was living in Pennsylvania. She joined both the Pennsylvania and the Philadelphia County Suffrage Associations. She and others often journeyed to numerous communities on behalf of either the Pennsylvania Federation of Women's Clubs or the state chapter of NAWSA, and made personal calls, conducted meetings, delivered lectures, gave interviews, and distributed literature. Her field report, probably made in about 1915 and excerpted here, indicates the kinds of reactions she received from citizens and groups in Lawrence and Clarion Counties.
By 1915, advocates of women's suffrage had succeeded in getting the legislature's approval for a referendum on an amendment to the state constitution, which, of course, was confined to male voters. Despite intense lobbying, the referendum failed; however state and national organizations maintained the pressure. At the end of World War I, women emphasized their contributions in medicine, industry, business, the professions, and in "shouldering the obligations of those who would never return." The United States Congress capitulated and on June 4, 1919, approved the women's suffrage constitutional amendment. It was then sent to state legislatures for ratification. Pennsylvania quickly approved it June 27, 1919, becoming the eighth state to ratify. When the requisite thirty-six states (3/4 majority) had ratified, the president signed it on August of 1920 and it went into effect as the nineteenth amendment to the Constitution. The amendment was brief and succinct, stating only that the "right of citizens to vote shall not be denied or abridged by the United States or by any State on account of sex," but had far-reaching implications. Would it lead to "block voting" by women, or to a woman's political party? Did it mean that women may or may not serve in the nation's armed forces? What about laws that protect women but not men in their work outside the home? Must employers pay women the same wages as they pay men for the same type of work? Some of these questions that resulted from the activities of Liliane Stevens Howard and others like her are still being debated.
Transcript
(spelling and usage retained from original document)
Lilliane Stevens Howard
FIELD REPORT TO STATE CHAIRMAN
July 20th Began campaign in Lawrence County, NEW CASTLE 3 P.M. conference officers at home of Miss Lulu Boyes.
July 21st Arrangements made relative to activities , 3 P.M. Meeting at home of Miss Sarah T. Sankey, 14 suffregettes present. Discussion of work, past and future.
July 22rd Interview with Mrs. James M. Smith4 P.M. Grocers' Picnic at Cascade Park. Spoke for an hour from Band Stand, 27 signatures.
July 23rd Meeting in Fifth Ward 3 P.M. at home of Mrs. I.B. Griffith. Leader appointed. Sold some novelties. Arranged also to have question of suffrage introduced at the next meeting of the Negro Womans Club , which meets thoughout the year, a federated organization. These women are very intelligent and it looks promising for organization among them, at 8 P.M. spoke at festival in Fifth Ward. Rain probably kept many away 13 signatures.
July 24th Mrs Baer desires to resign chairmanship. Made calls, looking for material for leader. Meeting scheduled for Ellwood called off at last hour. Women having it in hand failed to arrange. Attended lawn festival.
July 25th Lincoln Chautaugua opened 2:30 PM. Six girls distributed literature afternoon and evening. Secured some signatures. NEXT AFTERNOON: 6 P.M. meeting in church tent. Platform decorated with Black-eyed Susans. R.G. Ferguson, D.D. , former president of Westminster College, presided; 37 enrolled. R.M. Russell, D.D., present president, stronly favors suffrage in the spring, the Westminster team won on every point. The Redpath-Brockway Chautauqua meets August 28th. Farmers Institute is held in college Chapel.
July 27th Chautauqua at 2:30 and 7:30 P.M. Literature and signatures.
July 28th Chautauqua 2:30 P.M. Woman's Day. Mrs. Curtis of Texas spoke strongly for suffrage, 55 signatures.
July 29th – 31st Clarion Co. suffrage booth at Harvest Home Picnic, Alcola Park, in charge of Mrs. Mundorf. Spoke in pavillion during afternoon program, also at booth.
July 31st NEW BETHLEHEM, Clarion County. Open air meeting. Spoke from steps of bank. About 100 present. Mrs. Mundorf assisted.
August 1st. Returned to New Castle.
August 3rd MAHONINGTOWN, made eight calls. Secured five signatures. This town, though a half hour's ride, is Seventh Ward of New Castle. NEW CASTLE, 8:30 P.M. spoke before Paul Lawrence Dunbar Club (Afro-American) at home of Mrs. Julia Fitzhugh, 16 present, 14 enrolled. These are very intelligent women of the better class, who live well. Their club belongs to the National Federation. Mrs. B.J. Shannon was made leader and all present went on enrollment com. To work among their race. Every one knew what ward she lives in.
August 4th ELLWOOD. Made calls in afternoon, hoping to be able to arrange meeting. Found that the Womans Club would hold its regular meeting at 7:30 P.M. Accepted invitation to speak before it. Two papers on "Pure Food," and a decision to petition the town council to appoint a woman food inspector made an excellent background for introduction of suffrage. The club, only a few months old, also voted to join the State Federation. This, too, is encouraging. At the conclusion of my talk I asked for signatures. The result was so favorable I suggested organization and officers were elected without difficulty. This meeting was held in the Free Library, with 25 women present, of whom 20 enrolled. Redpath Chautauqua opens September 7th.
August 5th – 6th Trying to get a meeting for discussion of suffrage , Impossible. Likewise impossible to get meeting of members for election of new leader, in place of Mrs. Baer, who desires to resign. Interviewed Miss Davidson relative to leadership.
August 7th Miss Reed arrived. We called upon Mrs. Baer, Miss Boyles, Miss Davidson. NEW BEDFORD, Pulaski Township, made eight calls. Had 11 interviews, secured 9 signatures. Mrs. L.L. Swogger (college woman) and Mrs. C.L. Zadeker will hold little meetings at which suffrage literature will be used, read, and discussed. They will also secure signatures.
August 8th EDENBURG A.M. Made calls Mrs, Joe Nellie Hofmeister will secure enrollments. PULASKI P.M. Made calls. Mrs. James Clark Douthott and Mrs. R.L. Ayres will secure signatures. Rev. Hayes of the Presbyterian Church preached on suffrage a week or two ago. A large county fair will be held September 22-24th.
SUMMARY
In Lawrence County I visited seven towns in six townships: New Castle, Ellwood City, Mahoningtown, Edenburg, Pulaski, New Bedford and New Wilmington. In New Castle, made 72 calls, had 58 interviews, spoke at picnic at Cascade Park and at open air festival in Fifth Ward, distributed literature and secured signatures at three meetings of Chautauqua. Appointed leader in Sixth Ward. Addressed Dunbar Club and appointed leader for Afro-Americans. Spoke before the Woman's Club at Ellwood City and at conclusion organized W.S.P. Held public meeting in New Wilmington. Enrollment committee left in Edenburg, New Wilmington, Pulaski, New Bedford. These are all small towns. 222 names added to county roll.
Plenty of sentiment in New Castle, but little inclination to work, Mrs. E.N. Baer, chairman, owing to ill health and lack of time, desiring to resign. An active leader is much needed here. Tried to find one, but was not able. When vacation time is over and the clubs reopen there will be better opportunity.
Spent July 29th – August 1st in Clarion County speaking and assisting Mrs. Mundorf at booth at Alcola Park. Also held open air meeting in New Bethlehem.
A pleasing incident and good advertising was noticed on the war from Red Bank to Pittsburgh. Many summer camps dot the opposite side of the river. In front of one appeared the slogan, "Votes for Women" made in immense letters with white-washed stones on the sand. It attracted considerable attention.