Contemporary
Contemporary Style houses of the postwar period were often individually architect designed rather than coming from the more common design portfolios of subdivision home builders. Divided into two subtypes, Contemporary Style houses may be grouped as either flat roofed or gable roofed examples of the style. Flat roofed Contemporary houses were influence by the International Style, but with an American twist. These "American International Style" houses share the flat roof and absence of decorative details with their European counterparts, but lack the stark white stucco walls of and severe unlandscaped setting. They are distinguished by their decorative and untraditional arrangement of windows, usually in an unsymmetrical pattern. The gable roofed Contemporary Style subtype is influence by the Craftsman and Prairie Styles which can be seen in the dramatically overhanging eaves, exposed roof beams, and used of heavy piers of natural material like wood, brick or stone. Windows are arranged in strong geometric patterns, not the traditional symmetrical pattern. Some gable roofed Contemporary houses have dramatically oversized entryways.
Identifiable Features
Flat roof (subtype) has no decorative detailing but various combinations of wood, brick or stone wall surfaces
Gable roof (subtype) has overhanging eaves, often with exposed roof beams and may be supported by heavy piers, and use of wood, brick or stone wall cladding
Generally one story
Rectilinear or square plan
Front faced window walls and clerestories
Photos
Click any image to enlarge.

Example of a flat roof Contemporary house, Allegheny County

Example of a garble roof Contemporary house, Allegheny County

Example of a flat roof Contemporary house, York County

Example of a gable roof Contemporary house, Dauphin County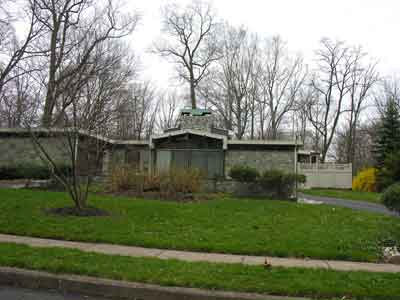 Example of a flat roof Contemporary house, Montgomery County