Suburbs Field Guide
This section has been developed to expand upon the Pennsylvania Architectural Field Guide whose narrative ended with the styles of the Modern Movement Period (1925-1950) including the Art Deco Style, the Moderne Style, and the International Style. That guide followed the guidance on American architectural styles provided in the National Register of Historic Places Bulletin 16A. To date, the National Register's list of recognized residential styles for the postwar period includes only the Ranch style. However, many other styles for the period have been described and documented by architectural historians and scholars.
Virginia and Lee McAlester identify a number of additional mid and late 20th century house styles in their book A Field Guide to American Houses (2004). They characterize "Modern" (1935 – present) period residential styles as follows: the Minimal Traditional, Ranch, Split-Level, Contemporary and Shed styles. They also define a somewhat later "Neoeclectic" period which includes the Mansard, Neocolonial, Neo-French, Neo-Tudor, Neo-Mediterranean, Neoclassical Revival, and Neo-Victorian styles. John Milnes Baker identifies additional mid 20th century house styles in his book American House Styles (1994), such as the Williamsburg Colonial style and the American Vernacular Revival style.
Other architectural historians have developed additional nomenclature for the abundant and ubiquitous American houses of this mid-century period. The same simple dwelling may be described differently in various parts of the country or by historians citing different scholarly works. Thus, it is important to remember that while some styles are almost universally recognized, a full understanding of this period of domestic architecture is still evolving. In truth, there has always been some disagreement among architectural historians and scholars on the proper category, name and period of popularity for many recognized architectural styles. So, the lack of uniformity in describing the houses of the mid 20th century is hardly surprising. This issue is discussed in Jeanne Lambin and Janine L. Duncan's article "The Recent Past is Groovy: Researching American Architectural Styles After WWII" (PDF) where they found that one hundred fifty-nine (159) new architectural styles were recorded for the period 1945-2007. Also visit Recent Past Revealed, a website that features a very complete on-line architectural style guide and glossary. So, while there is a basic language and understanding of established architectural styles, it is an evolving process. Our Suburbs Field Guide is intended to offer a framework to assist in the evaluation of such resources, rather than a foolproof labeling system of architectural styles.
Postwar Suburbs in Pennsylvania 1945-1965
For the purposes of this Suburbs Field Guide, the focus will be on the styles prevalent in Pennsylvania from 1945 – 1965, utilizing some of the stylistic classifications offered by the McAlesters and other architectural historians. Narrative, photos and lists of identifying features for common domestic mid-20th century styles will be provided. The period of 1945 to 1965 was selected to represent the boom in residential housing construction in Pennsylvania and elsewhere which took place immediately following World War II. This wave of mostly suburban subdivision housing development marked a dramatic shift not just in housing styles and types, but in the nation's land use and settlement patterns. Houses were sited on lots double or many times the size of the prewar standards. This abundance of green space was a hallmark feature of postwar suburbs.
This surge in new home building was caused by several significant developments. Burgeoning population growth (the Baby Boom) with a resultant severe a housing shortage, changes in home building technology, increased automobile ownership and the development of federally funded interstate highway system were all factors in the surge of suburban development after World War II. Economic factors played an important role as well. The postwar era was a period of sustained prosperity with a marked increase in disposable income and leisure time, especially among the blue-collar workforce. Industries relocated from urban to suburban locations, taking many of their workers with them. The new housing subdivisions of the 1940s, 50s and 60s were indicative of the changing lifestyle of middle class America.
The federal government played an important role in addressing this need for housing. Amendments to the National Housing Act in 1948 greatly increased credit to builders and broadened the use of FHA mortgages. Enactment of the "GI Bill" in 1944 provided guarantees on home mortgages and allowed veterans to use their GI benefit in place of cash for a down payment. It is fair to say that by the creation of a national program of mortgage insurance, the federal government revolutionized home ownership in the USA. The creation of a federally funded interstate highway system had an equal enormous impact on land use patterns. New highways paid for with 90% federal funds opened up rural landscapes for both residential and commercial development. The federal government also played a role in the design of homes with the FHA's establishment of minimum standards for small houses and insurable neighborhoods in 1936. The Minimal Traditional Style house especially, is a reflection of FHA design policies.
Changes in the process of home construction, such as on-site mass production, standardization, and the use of prefabricated components kept the costs of housing units low and allowed "merchant builders" to develop large plots of land. These home builders constructed vast number of houses on an unprecedented scale. When Levitt & Sons created Levittown in Bucks County, Pennsylvania, over 17,000 new homes were built in a period of just a few years from 1951-1957 in what had been rural farm fields. These newly built neighborhood communities often had their own identities, apart from nearby towns and cities. Levittown, in fact, was not a town or city, but a huge suburban subdivision spanning several municipalities. New subdivisions were marketed in a way that sold not just houses, but the suburban lifestyle. For many, a home in a subdivision represented attainment of the middle class status. This twenty year period saw some of the most intense residential building in our nation's history and produced rather distinctive types of neighborhoods. The goals of this housing boom were clearly reflected in the form of residences constructed and the design of neighborhoods. Those goals were to provide affordable homes for returning WWII GIs and their families, to address a national housing shortage, and to enable first time home owners and less affluent citizens to obtain manageable mortgages to avoid foreclosures (National Register Bulletin Historic Residential Suburbs).
Architectural Styles in Pennsylvania from 1945-1965
The most common styles of single family residences built in this time period in Pennsylvania fit into several basic style categories: the Ranch style, the Minimal Traditional style, the Cape Cod Cottage style, the Split Level style, the Raised Ranch style, and the Neo- Colonial Revival style. To a more limited degree, modern looking Contemporary style homes were built and new versions of previous revival styles (Neo-Eclectic) such as the Mansard, Neo-French, Neo–Tudor or Neo-Victorian. The Colonial Revival style even took a new turn to reflect the interest in America's past exemplified at Williamsburg to become known as the Williamsburg Colonial Style. Another revival style called American Vernacular Revival style also looked to the nation's early roots for inspiration, using common folk inspired shapes and forms. Perhaps Pennsylvania's East Coast location and historic traditions dictated a preference for more familiar housing styles, but for whatever reason, far fewer modern Contemporary style homes that truly broke with all past housing traditions were built in this mid 20th century period. Even "Lustron homes" - small, pre-fabricated, porcelain-covered steel panel houses were built in a traditional one-story cottage style, despite their modern-age material. About 2,680 Lustron homes were produced in Columbus, Ohio in 1949-50 for shipment throughout the USA. About a dozen remaining Lustron homes have been documented in PA, although many more may exist.
Unlike Europe, in the United States eclectic styles which mimicked the past were more popular in the 1920s and 1930s prior to World War II and more modern forward looking styles attained popularity after the war. (The exact opposite occurred in Europe, more modern houses were built in the period before the war and more traditional houses after it.) The Ranch style, Split-level style and Contemporary style, all popular in the 1950s and 1960s were a fresh approach to residential housing. While all three new styles borrowed some elements from the preceding early 20th century Craftsman, Prairie or International styles, they were also very different and distinctly modern in appearance. By the 1970s and 1980s, the pendulum of taste had swung back again to more eclectic revival styles like the Neo French, Neo Tudor, Neo Colonial Revival and Neo Victorian. The revival styles of this period aspired less to copy earlier styles than to borrow historic details and adapt them to more modern forms and materials. That trend of blending elements of historic styles with new shapes and forms continues to shape the appearance of domestic architecture in the USA today (A Field Guide to American Houses). What most of these houses of the postwar period have in common is their smaller size (2 to 3 bedrooms), location within a planned subdivision of like homes, and access to transportation (streetcar or bus lines or highways). Postwar suburbs usually invoke an imagine of single family detached homes. In reality, such detached free standing homes made up only about 60% of the housing stock in the years from 1940 – 2000 (U.S. Census Bureau). Duplexes, triplexes, and quadriplexes were also built in densely developed neighborhoods, in the mid-20th century period. Such homes were usually in more urban settings where open land was less plentiful and duplexes and row homes had a long established tradition. This housing form was heavily used in the postwar years to create defense worker housing, where the urgent need for units and limited availability of construction materials made multi-family homes necessary. For most of America, the postwar dream home seemed to be a single family house on its own more private plot of ground.
In an effort to help document these postwar residential resources, we welcome your input and hope you will share photographs which portray the depth and diversity of Pennsylvania's post World War II architectural history. Comments and photos (identified by municipality and county) can be sent to chnagle@pa.gov.


Pennsylvania Builder's Show - Ranch House
Image Courtesy of the Pennsylvania State Archives,
Manuscript Group 217; Harrisburg Home Star Collection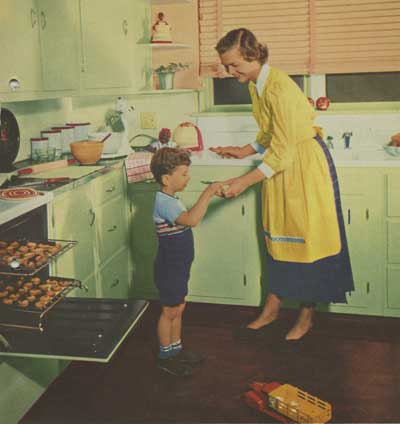 Image Courtesy of Pennsylvania State Archives, Harrisburg; Record Group 37; Records of the Public Utility Commission; Bureau of Rates & Research; Annual Reports; Series 37.4