Pennsylvania Trends
Introduction
While Pennsylvania has a rich and varied history in terms of its development, the purpose of this narrative is to discuss the various trends in Pennsylvania that occurred from 1945 to 1965. The growth in the metropolitan areas of Pennsylvania during this time was not distinctive to Pennsylvania but was the pattern all over the United States. Yet it is necessary to recognize patterns of the postwar development in Pennsylvania and connect those patterns to its buildings and landscapes. It is important to note that there are most likely regional differences in how and why this type of development occurred or did not occur. The purpose of this website is to give the researcher the valuable evaluation tools and direction needed to consider the many influences that shaped postwar development, it is not a one size fits all method.
Transportation
From waterways and Native American trails that were
well-traversed routes of communication
prior to the arrival of the European colonists to the
ascendancy of the motor vehicle following World War II,
Pennsylvania's transportation networks have played a dominant role
in shaping the history of not only the state,
but the region and the nation as a whole.

"Historic Context for Transportation Networks in Pennsylvania"

The history of the Pennsylvania Department of Highways during the postwar highway program of 1946 to 1956 is provided by PennDOT's Cultural Resources Management Program.
"For the first time, the Department began making direct grants to all of Pennsylvania cities and boroughs for the purpose of improving local streets and building express highways in and around urban areas. Appropriations also increased for the maintenance and improvement of local rural roads in second class townships. But the funding increases still could not keep pace with the explosion in vehicular traffic and the associated maintenance costs for roads and bridges. Americans released their pent up consumerism and went on a car buying frenzy.
Between 1948 and 1950 more than 45 million vehicles used Pennsylvania's roadways, a significant portion of them trucks carrying increasingly heavy loads to and from Pennsylvania's industries. The growing number of cars and trucks created congestion, especially in urban areas, such as US 30 through York, Lancaster and Philadelphia, US 1 in Philadelphia, and US 22 through Allentown, Harrisburg, and Pittsburgh. The postwar boom also revived the state's tourist industry, which had languished during the Great Depression and World War II. The increasing number of vehicles influenced the roadside landscape and resulted in the rapid development of commercial strips and accelerated rates of suburbanization (Van Riper 1954: 107).
From 1946 to 1956, Pennsylvania's highways saw significant physical improvements. From a highway public policy standpoint, however, the period was one of tentative steps toward the conclusion that what the state, and indeed the nation, wanted was an integrated system of limited-access interstate highways. While most observers concluded that limited access interstate highways were desirable from a convenience of travel standpoint, just what government agency should be responsible for the roads, and whether to fund these highways by tolls or taxes continued to be major points of political disagreement."
Regional Trends
The PHMC has reviewed hundreds of transportation projects which files may include contexts on transportation and development of various regions in Pennsylvania. These files are available for review upon request.
For example, the Mon/Fayette Transportation Project's Cultural Resources Survey included narrative based upon Margaret E. Pope's A Study of the Road Netword and Settlement Pattern in Southwestern Pennsylvania [M.A. University of Pittsburgh, 1971] which detailed the changes in road related transportation patterns between 1930-1970 in southwestern Pennsylvania. "She [Pope] noted that the road network in Allegheny County in 1930 consisted almost entirely of roads radiating out from Pittsburgh, with no major links between them. The only major change by 1950 was the construction of the Pennsylvania Turnpike, which ran to the north of the city. It was not until 1970 that the road network in the county became a more complex mesh, particularly to the south and southeast of Pittsburgh (Pope 1971:36). She found that there was little change to the Ohio and Allegheny valleys, but the number of suburban centers to the south and east of Pittsburgh increased. She wrote that this was due to the Monongahela Valley traditionally being an important area for urban development. Thus, it is clear that suburban development in Allegheny County took place primarily to the east and south of Pittsburgh, with development pushing south along the Monongahela River Valley. Accessibility was also detailed in Pope's study. In 1930 and 1950, the most accessible areas were adjacent to Pittsburgh, and the least accessible areas were located to the north, east and west of the city. With road improvements to the southeast by 1970, including I-79 and I-70, the network extended to the south and improved accessibility. [1]
PHMC Scholar-In-Residence Allen Dieterich-Ward's dissertation "Mines, Mills and Malls: Regional Development in the Steel Valley" (PDF) discusses the postwar evolution in transportation infrastructure. His final report (PDF) showcases the various records of interest for research located at the Pennsylvania State Archives.
To learn more about the Schuylkill Expressway, read John F. Bauman's "The Expressway Motorists Loved to Hate: Philadelphia and the First Era of Postwar Highway Planning, 1943-1956."

Architect Rendering of the Susquehanna River Bridge, c. 1950
Image Courtesy of the Pennsylvania State Archives, Harrisburg;
Record Group 12; Records of the Department of Highways; Bureau of Public Information; Main File of Black & White Prints and Negatives (Series #12.10) [Neg 28789]
Housing and Population Trends
In Pennsylvania, housing stock doubled between 1945 and 1960 (more than 1.5 million housing units were built), and doubled again in 1975.[1] Statistically the south eastern portion of the state had the most growth. Using data from the U.S. Census of 1990, Philadelphia County contained almost 675,000 housing units, the most of any Pennsylvania county. 51.6 % of those housing units were built prior to 1940, whereas 13.6 % were built from 1940-1949 and 14.1% were built in the 1950s.
In Delaware County, of the over 211,000 units built by 1990, only 28% were built before 1940. Delaware County experienced the largest percent growth of housing units of any Pennsylvania county between 1940 and 1960. 17.5% of its housing was built in the 1940s, and 24.2 % in the 1950s. In Bucks County which had approximately 200,000 housing units by 1990, only 12.8 % were in place before 1940. Bucks County gained very little stock in the 1940s, with only 5.4%, yet in the 1950s, it had a 23.2 % increase, which was second to Delaware County. Of Montgomery County's 256,000 units by 1990, a substantial 23.1% were built prior to 1940. It ranked third of the state with 20.3% growth from during the 1950s. Montgomery County experienced the highest percent growth of any county in Pennsylvania during the 1960s with 17.3 %. With almost 140,000 units by 1990, Chester County experienced growth as a later phase Philadelphia suburb, with 21.3% of its housing units built during the 1970s.
In the south western part of the state, Allegheny County had 580,738 housing units by 1990, of which 35.2% were in place prior to 1940; 18.98% were built during the 1950s. Westmoreland had 153,554 housing units, of which 17.16% were built in the 1950s. In comparison, Erie County which had 108,585 units by 1990, had 32.34% built before the 1940s, and 15.45% built in the 1950s.[2]
Interestingly, the state's population remained relatively static during the postwar period. In 1940, the population of Pennsylvania was 9,900,180 (only rising to 11,319,366 by 1960). The Commonwealth ranked second among all of the states in total population, and sixth in average with 219.8 people per square mile. 64% of the population lived in ten Metropolitan Districts: Philadelphia, Pittsburgh, Scranton, Wilkes-Barre, Allentown, Bethlehem, Easton, Reading, Lancaster, Harrisburg, Altoona, Johnstown and Erie. The Pennsylvania Post-War Planning Commission defined these districts as including a central city, all adjacent and contiguous minor civil divisions or incorporated places having a population of 150 or more persons per square mile.
Until 1950, the U.S. Census Bureau considered an urban area as places of 2,500 or more people (today we would consider these as metropolitan areas). To get a better understanding of consumer income during the postwar period, view the U.S. Census Bureau's 1949 "Current Population Reports" (PDF). For data regarding the 1950 Census of Housing for Pennsylvania (PDF), see the U.S. Census Bureau's General Characteristics (files are large, it will take a few minutes to upload). See also the 1960 U.S. Census of Population and Housing. Per the Pennsylvania State Planning Board, between 1950 and 1960, the entire increase in population and 99% of the increase in urbanized land area in the eleven urbanized areas of Pennsylvania occurred in the suburbs. View what the Pennsylvania State Planning Board said about the "Implications of Pennsylvania's Current Growth Pattern" (PDF) in the 1950s (Courtesy of the Pennsylvania State Archives, Harrisburg; RG 12, Executive Office, Series 12.6). One also needs to look at national development patterns which have different expressions and importance depending on the region (please go to our National Trends page for further discussion).
For more detailed direction in regards to housing unit, please go to the Maps page which describes how to identify the existing number of housing units in individual municipalities using information from the Pennsylvania State Data Center.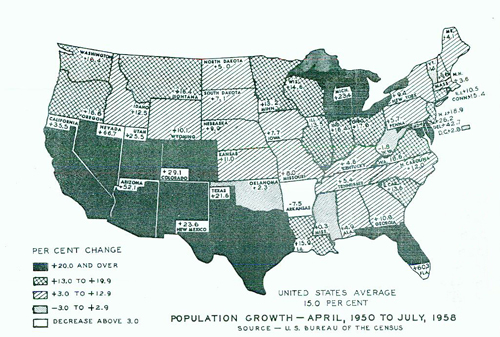 Map of U.S. Population Growth from April 1950 to July 1958
Image Courtesy of Pennsylvania State Archives, Harrisburg; RG 12; Records of the Department of Highways; Executive Office;
Minutes, Reports of the State Planning Board (series 12.6)
Planning and Land Use
Municipal, County and Regional Planning
The impetus for planning grew out of the New Deal Era of the 1930s. Bradford County in 1939 was one of the first counties to create a planning commission. In 1952 within the 66 counties of Pennsylvania, there were 990 municipalities, and 1,564 townships. By 1962, there were 1,003 municipalities and 1,555 townships [4]. Each municipality had the control over their own subdivision planning. Keystate Publishers, Inc. offers online access to the Codes of Ordinances for Pennsylvania Municipalities.
An excellent resource is comprehensive plans, for instance, the Delaware County Planning Commission prepared a Marple Township Comprehensive plan" (PDF) that outlined the history of and the future of population projections, land use planning, transportation planning, and community facility planning. In addition, many municipalities began to create regional planning commissions.
In 1956, the Regional Planning Commission of Greater Harrisburg was created, and included the municipalities of Susquehanna, Lower Paxton, Penbrook, Harrisburg, Paxtang, Hummelstown, Swatara, Steelton, Lower Swatara, Highspire, Middletown, and Royalton. They prepared and published studies and policy documents including Forces of Past and Future Development (1958), Land Subdivision Regulations (1958), A Guide for Zoning (1958) and a formal inter-municpal land use plan Master Plan (1960). [5]
The Conference on Metropolitan Area Problems published a "News and Digest,"which detailed the various annual reports of metropolitan surveys done throughout the United States.
For example, in this edition, valuable information for further study and research included the name of the study (Penn-Jersey Transportation Study), year (1958), the contact person (Henry Fagin), the sponsors (US Bureau of Public Roads, and the New Jersey and Pennsylvania Highway Departments) and its objectives (collection and analysis of data pertaining to all forms of transportation and related economic, social, and governmental development of the region; development of a comprehensive transportation plan derived from evaluation of alternative patterns of regional development and transportation).
The 1966 Pennsylvania City symposium, chaired by Edmund N. Bacon, included a panel on "The Pennsylvania Suburbs" (PDF) which included remarks by Carl W. Wild on aesthetics in subdivision design and development, William K. Davis on the prevention of sprawl, and Clifton E. Rodgers on aesthetics of commercial architecture and development and how urban growth becomes suburban sprawl (Courtesy of the Pennsylvania State Archives; MG208 Scranton Papers; Subject File 1963-67; Carton 30).
PHMC Scholar-In-Residence Mark Levengood discusses in his final report (PDF) various avenues of research he conducted (how residents identified and constructed space around them) for his dissertation "A Post-Industrial State?: Work, Culture, and Deindustrialization in Post-WWII Eastern Pennsylvania." Additional resource tools are available on our Primary Research and Bibliography pages.
For those interested in Modern Suburbs (1965-1990) the Pennsylvania State Planning Board and the then Pennsylvania Planning Association in the 1950s began working together on a consolidated planning enabling act. This act, adopted in 1968 as the Act of 1968, P.L. 805, Number 247, is the Municipalities Planning Code which is the state law that provides for local, county and regional community planning.
Land Use
Since the 1950s, Pennsylvania has lost almost 50% of its farmland compared to 20% nationally. Construction of new housing developments and the expansion of the interstate highway system have contributed to this decline. In effort to determine the amount of farmland lost to development in your municipality, one might look at the U.S. Department of Commerce, Bureau of the Census' 1950 Census of Agriculture. If you would like to learn more about the history of farming in Pennsylvania, please see the Historic Agriculture Resources of Pennsylvania, c. 1700-1960 Multiple Property Documentation Form.
Further Keyword Research Suggestions:
Conferences on Community Development
County Planning Commissions
Regional Planning Associations
City Planning Commissions
Regional Industrial Development Corporations
County Redevelopment Authorities
Chambers of Commerce
Pennsylvania Economy League
Committees on City Policy
Citizens Council on City Planning
Pennsylvania Roadside Council, Inc.

"News and Digest"
Image courtesy of the Pennsylvania State Archives, Harrisburg; MG 191 David L. Lawrence Papers; General File; Folder 19.24
Developers and Builders
While Pennsylvania is known for Levittown, built by the developer William J. Levitt, it is highly unlikely that the postwar suburb you are researching will be on such a large scale. Nonetheless, there are many other builders and developers in Pennsylvania who were highly successful in creating well planned communities that offered a range of architectural styles and amenities.
BHP is currently in the process of collecting information on builders and developers. If anyone has a short biography or information about builders (and their projects) in your area, please let us know so we can post on the website.
Bodek, Ralph, a Philadelphia-based builder; for detailed information on Bodek and his Lawrence Park development, please see our Primary Research page.
Flynn, William V., established an architectural practice in McKeesport, PA in the 1940s and formed the firm of Celli-Flynn with Mario Celli in 1950. The Carnegie Mellon University Architecture Archives in its Flynn Collection includes working drawings, sketches and documents for his projects, particularily the housing he developed for Herbert Sullivan and Sullivan Homes.
Milgram, Morris., involved in the first integrated suburban housing development in the Philadelphia area (Concord Park), and the integrated Greenbelt Knoll development. For more information on Milgram and Greenbelt Knoll, please go to our National Register Nomination page.
Ryan Homes, established in 1947 as a small, family run business in Pittsburgh by builder Edward M. Ryan (incorporated as Edward M. Ryan, Inc.). They expanded into Columbus, OH, Cleveland OH, Rochester NY, Harrisburg, PA and other cities during the 1960s, and the name was changed to Ryan Homes, Inc. in 1961. Carnegie Mellon University Architecture Archives in its Ryan Homes, Inc. Collection has "blueprints, photographs and papers document selected home models and subdivisions of the 1950s and 1960s. Projects selected document the firm's early history, and are represented by architectural documentation. Papers document some corporate operations, though the records of most decision-making activity were not made available for acquisition. Brochures, flyers and and other advertising materials represent the company's promotional activities." The article "Dynasty: Most Modern Production Builders Owe a Debt of Gratitude to the Ryan Brothers, founders of Ryan and Ryland Homes," gives background history on the company, the founders, and their philosophy.
For those researchers interested in finding information in regards to major and minor architects' works, one should start with county history publications. For example, in Montgomery County - The Second Hundred Years the author compiled data which included the name of each architect, design partner's name, birth and death dates, location of office, brief data in regards to partnerships and professional activities, and a chronological list of projects in Montgomery county. For instance the works of the firm Anderson & Casaccio included: Logan Square Shopping Center, Norristown 1954; Christ's Lutheran Church, Oreland, 1959; two shopping centers, Plymouth Square, 1960 and Swede Square, East Norriton, 1961; St. Andrew's Evangelical Lutheran Church, Audubon, 1962; Astor Shopping Center, Norristown 1962 [7].
Another excellent resource is your local chapter of the American Institute of Architects. For example, the Historic Resources Committee of the Philadelphia Chapter of the AIA assembled a listing of the buildings built between 1930-1972 in the Greater Philadelphia area. Also check out ModernHomesPhiladelphia whose website includes information and images of the mid-century regional architect-designed homes.
Discrimination
African American Pennsylvanians were primarily excluded from the many hundreds of thousands of new homes built by private enterprise after World War II. In Philadelphia of an estimated 200,000 dwelling units built between 1946 and 1955 only 1,927 were available to African Americans (Clarence C. Walton, "Housing Discrimination in Pennsylvania," (reprint) Governor's Committee on Discrimination in Housing, January 19, 1959. From David Lawrence Papers MG-191 Carton 12 Folder 26 Housing A-F at the Pennsylvania State Archives, Harrisburg, PA., 8). In Pittsburgh, of 7,000 homes built with FHA insurance between 1947 and 1953, only 130 had been available to African Americans. U.S. Census data found in a 1959 report to the Governor's Committee on Discrimination in Housing by Chairperson Clarence Walton provides statistical information in regards to the segregated living patterns of Pennsylvania. It also indicates the degree to which segregation in Pennsylvania changed in the postwar era.
In 1956 approximately 85% of all nonwhite households in Philadelphia were located either in or adjacent to the central business district. Restrictions were so rigid in Philadelphia that ten out of sixteen suburban municipalities surveyed for the report showed a decline in nonwhite population between 1950 and 1957 in those areas. In Pittsburgh, seven out of ten African American families were located in three areas of high nonwhite concentration, while the city contained almost all African Americans. Statistics using the census on smaller cities indicated that they duplicated or exceeded the degree of segregation shown in Philadelphia and Pittsburgh. Places such as Reading and Erie showed similar trends. Reading in 1950 had 80% of African Americans living in the city's central wards, with the number of blocks in which African Americans living within decreasing by twelve. Erie in 1950 had information indicating an increase in concentration within the central city and the fringes losing their nonwhite families. Evidence gathered by the Committee on Discrimination in Housing shows effectively that the factor controlling residential segregation was housing discrimination. Although there were many families earning over $5,000 a year, a sustainable income in 1950, the evidence presented in the statistical information shows that families faced overwhelming obstacles when they wanted to seek other housing. To learn more, please read PHMC intern Jessica Lane's full paper "Search for the American Dream Home: Race and Suburbanization in Post War Pennsylvania" (PDF) and a sampling of her research results (PDF).
A soon-to-be released resource is PHMC's African American context "The Legacy of African Americans in Pennsylvania, 1644-1965" which will be available in the near future. To find out more about residential segregation in the Philadelphia metropolitan area, see William B. Piggot's thesis "The Geography of Exclusion: Race and Suburbanization in Postwar Philadelphia" (PDF). Please visit PHMC's Our Documentary Heritage webpage to learn about "State Police Action at Levittown." For additional avenues of research, see our bibliography page.
Founded in 1956, the Fair Housing Council of Suburban Philadelphia (FHCSP) is the oldest fair housing council in the United States. The Friends Historical Library of Swarthmore College holds their records, including minutes, case files, legal records, advertising and publicity, and correspondence.
Read Thomas J. Sugrue's "Concord Park, Open Housing, and the Lost Promise of Civil Rights in the North," in the November 2010 edition of The Historical Society of Pennsylvania Legacies.
Further Keyword Research Suggestions:
President's Advisory Committee on Government Housing Policies and Programs (1954)
National Association for the Advancement of Colored People (NAACP)
National Urban League
Pennsylvania's 1956 Fair Employment Practice Act (amended ca. 1960 to prohibit discrimnation in housing and lending)
Notes
[1] Cultural Heritage Research Services, Inc., "Mon/Fayette Transportation Project - Cultural Resources Survey," Volume I: Historic Context, Part A, March 1993, 190-191.
[2] Between 1940-1949: 478,061 housing units were built; 1950-1959: 720956 housing units were built; 1960-1969: 612,604 housing units were built.
[3] Housing Data prepared by the Pennsylvania State Data Center from the U.S. Bureau of the Census, 1990 Census of Population and Housing. PA State Data Center website
[4] Municipalities in Pennsylvania are incorporated as cities (either a first class city with a population of a million or more, second class city with population of 250,000 and under 1 milllion, second class A cities with populations of 80,000 and under 250,000, and third class cities with populations of less than 250,000), of boroughs, as townships (either a first class township which has a population density of at least 300 people per square mile, or a second class) or under home rule charters. There are currently 2,567 municipalities in the state.
[5] In 1965, they expanded to include all communities in Cumberland and Dauphin Counties, mainly to meet the Municipal Planning Organization (MPO) requirements of the Federal Highway Administration for consideration of highway transportation related funds.
[6] Cultural Heritage Research Services, Inc. "Mon-Fayette Transportation Improvement Project "Summary Handout: Cultural Resources Survey" Volume 1: Historic Context, November 9, 1992, 28-29.
[7] Jean Tull, ed., Montgomery County - The Second Hundred Years (Montgomery County Federations of Historical Societies, 1983), 1438.