Pennsylvania Trends
By the end of World War II, cities in Pennsylvania and nationwide were facing housing shortages, loss of industrial and manufacturing economic bases, blight, and so on. In an effort to combat the decline of cities, in 1945 the Pennsylvania State Legislature enacted the Urban Redevelopment Act which "promoted elimination of blighted areas and supply sanitary housing in areas throughout the Commonwealth; declaring acquisition, sound replanning and redevelopment of such areas to be for the promotion of health, safety, convenience and welfare; creating public bodies corporate and politic to be known as Redevelopment Authorities; authorizing them to engage in the elimination of blighted areas and to plan and contract with private, corporate or governmental redevelopers for their redevelopment..." (Urban Redevelopment Law, Act of May 24, 1945 Public Law 991).
To get a better understanding of Pennsylvania's urban areas during the postwar period, BHP has created the Pennsylvania Trends of Urban Development 1945-1974 webpages which cover Urban Renewal, Urban Transportation, Urban Planning, Urban Legislation and Public Housing.
The Pennsylvania trends section mainly showcases two cities, Pittsburgh and Philadelphia. They were selected to illustrate the trends in Pennsylvania and to demonstrate the types of resources available to researchers. Check out the sections relating to the Pennsylvania State Archives records for other county and municipality records available.
BHP welcomes submission of any photographs, articles or other resources regarding urban development in Pennsylvania.
Read Governor George M. Leader's Press Release No. A-492, courtesy of the Pennsylvania State Archives.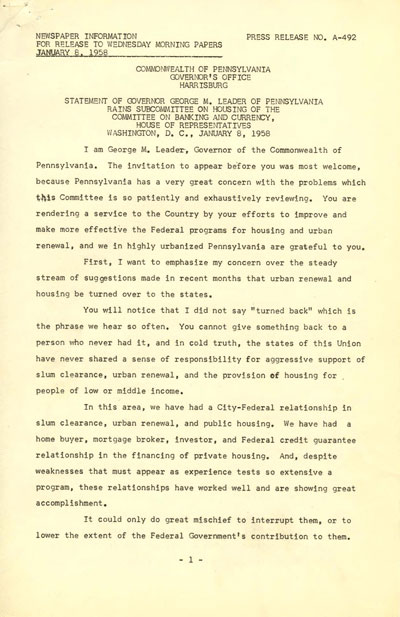 Governor George M. Leader,
Press Release No. A-492.
Courtesy of the PA State Archives,
Harrisburg; MG 207, Box 51.