Other Points to Consider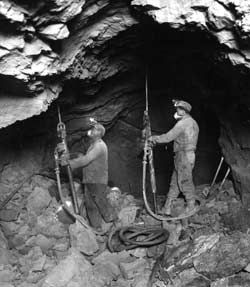 Cornwall Ore Miners Drilling.
When undergoing oral history projects, there are many points to consider and several decisions which need to be made to ensure a successful and worthwhile product. Here are some general points to consider before beginning an oral history project:
Before doing any interviews on a topic of interest, try to locate extant interviews on the subject, or even with the particular narrators you have in mind. There are literally millions of interviews in libraries, archives, historical societies, and private collections around the world; and extant interviews may well obviate your need to conduct additional. A simple Google search may turn up material; also consider posting queries to relevant listservs – two especially good resources for Pennsylvania-related oral histories are the H-NET lists called H-Pennsylvania and H-Oralhist.
You or your organization may want to record on video, in order to have a visual representation of the narrator, his surroundings, and his activities for inclusion in a museum exhibit. Consideration should be given to hiring a professional videographer to get the best visual results. Consideration should also be given to conducting a longer, in-depth audio interview first, to get complete background, enhance intimacy, and save money; and then do a shorter video version, scripted to get the highlights of the story desired for exhibit purposes.
Please understand that there is no magic bullet to doing a good interview, no way to ensure that it will be successful. Solid preparation, efforts to establish rapport, and searching, imaginative questions all help, but don't guarantee good results. For some advice on preparing, conducting, and following up on an interview, visit Conducting an Oral History Interview on the left navigation bar. The best way to learn how to interview is to interview, and then critically evaluate the results.
Recording technology is undergoing revolutionary changes and digital recording devices are rapidly replacing analog (sometimes called cassette tape) recorders. In addition, sound quality is increasingly important in recorded interviews, as they are increasingly presented in audio format – in exhibits, on the web – rather than in print, and sound recorded digitally is far cleaner and easier to edit than that recorded on analog. Digital recording is thus strongly recommended for all interviews. Currently (2007), many oral historians are using the Marantz PMD660, Solid State Memory Card Recorder. Also important in securing good sound quality is use of an external microphone. An excellent guide to various recording technologies, as well as specific models is:

"Audio Field Recording Equipment Guide," developed by the Vermont Folklife Center; website also includes guides to digital editing of field audio and field recording in the digital age.

Interview transcripts – i.e. a word for word rendering in print of what has been said on the tape - are preferred, as they increase access. But transcribing is expensive and if budgetary constraints preclude it, at minimum a running summary – sometimes incorrectly called an index – of what has been recorded should be prepared. Ideally, transcripts should also be time coded to the digital recordings they accompany.
Because an interview is understood as a copyrightable document, owned by the interviewee, the interviewee must give permission to use the interview. It is desirable that that she/he sign over all rights to the interview and ownership of the actual recording to the sponsoring organization or individual researcher. This is done by what is termed a legal release form. Here is an example of a standard oral history release form (MS Word). For further information on legal issues in oral history, including copyright, see:

Neuenschwander, John H. Oral History and the Law, 3rd ed. Carlisle, PA: Oral History Association, 2002.
Shopes, Linda, "Legal and Ethical Issues in Oral History," in Handbook of Oral History, Thomas L. Charlton, Lois E. Myers, and Rebecca Sharpless, eds. Lanham, Md.: AltaMira Press, 2006.