Historic Educational Resources of Pennsylvania
The evolution of public education in Pennsylvania is separated into four distinct periods that were influenced by larger social and cultural trends. Each period had its type or style of school building marking both building technology and the perceived role of education. An overview of the periods is discussed below.
The Historic Educational Resources of Pennsylvania (PDF), authored by Domenic Vitello, Ph.D. is a context organized in a Multiple Property Documentation Form. The context further details the evolution and history of public schools throughout Pennsylvania.
The PHMC's Bureau for Historic Preservation has initiated a comprehensive survey of pre-1969 schools still operating as schools, identifying the characteristics and evaluating their historic integrity. This initiative paired with the statewide context provides a framework for listing individual schools across the Commonwealth to the National Register of Historic Places.
There are approximately 370 schools and former school buildings across Pennsylvania that are already listed in the National Register of Historic Places, either individually or as a contributing building within a historic district. To find out whether your historic school building is currently listed in the National Register, visit Cultural Resources Geographic Information System (CRGIS)
A History of Public Education in the Keystone State
1682-1818: Colonial and Early National Pennsylvania
This is the era before common school systems developed in Pennsylvania. Schools were important institutions of colonization. The many diverse groups of European settlers in Pennsylvania founded educational institutions, usually tied to their churches. Germans, English, and other colonists used schools as vehicles for cultural preservation in the New World ; and they sometimes came into conflict when English educators attempted to impose their school systems upon other ethnic groups.
In Pennsylvania's cities, early charitable schools aimed to mitigate the troubles of growing urban poverty. Generally, schoolhouses of this period followed the patterns of residential and sometimes religious architecture, with elite academies modeled after elegant Georgian or Federal style homes, wood frame one-room schoolhouses in agricultural regions, and log cabin schoolhouses on the frontier.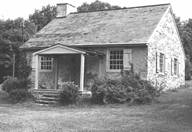 Federal School, Haverford, Delaware County, 1797. Built on land donated by Philadelphia merchant Alexander Symington, this fieldstone schoolhouse closely resembles the domestic architecture of late eighteenth century rural southeastern Pennsylvania. It operated as a one-room elementary school until 1872.
1818-1867: The Rise of the Common School System
During this period, common school systems developed first in Philadelphia and then, following the common school act of 1834, across the state. Many Pennsylvanians opposed publicly funded schools; but for their proponents the common schools represented a necessary institution of a democratic society, promising to create a literate and informed electorate. Additionally, common schools addressed major changes in the labor market, training young people in basic literacy and arithmetic necessary to participate in a rising wage labor economy in which apprenticeship was declining. By the end of this period, the state system of public education had become a mature bureaucracy. Also, a distinct hierarchy of schools had emerged. A few high schools in urban settings offered an advanced curriculum in ornate buildings, two- or four-room schools with simpler curriculums developed in working class neighborhoods or mid-sized towns, and one-room schoolhouses served the children of farmers and miners in less populated rural regions. Their builders employed a variety of architectural styles, ranging from elaborate Italianate and Gothic forms popular among elite architects of the period to simple vernacular construction.
Old Brown's Mill School, Franklin County, 1836. Unlike many communities in south-central Pennsylvania, the residents of this section of rural Franklin County bought into the common school system early on. Fifty-one subscribers contributed funds to erect the schoolhouse, and Lazarus Brown, grandson of the area's first settler, donated the land. Built of local limestone, its central chimney heated both the ground floor classroom and second floor teacher's quarters. Its simple one-room floor plan was typical of schoolhouses in agricultural regions throughout the nineteenth century.
1867-1930: The Long Progressive Era
The period between the end of the Civil War and the Great Depression was the era of great systematization in public education, and in American social and economic institutions in general. School curriculums expanded in the face of rapid industrialization, corporate reorganization of the economy, and the rise of the professions. Progressive reformers profoundly impacted education, inspiring schools to take a stronger role in the social lives of students and their communities through programs in public health, home economics, physical education, and Americanization for the great waves of immigrants arriving during this period. Rapid urbanization and the administrative consolidation of many rural school districts made this the most active period of school construction in American history. Following more general trends in public architecture, new schools were commonly built in American and European historical revival styles of architecture.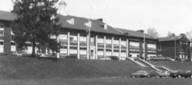 Troy Public High School, Troy, Bradford County. Troy Public High School, completed in 1924, was designed in the Colonial Revival style and was originally T-shaped in plan. Due to a growing student population and the need for expanded vocational programs, additions were constructed in 1936 and 1939 with funding from the Works Progress Administration, transforming the building to its current "E" footprint. Faced with responding to new educational requirements in 2005, the Troy Area School District weighed their options for maintaining their historic school or constructing a new building. The school board opted to rehabilitate their historic school for these reasons: The school is listed in the National Register of Historic Places, it is a community landmark, the cost of a new site and new school building was estimated at over $30 million, and they learned that renovating the historic school would double their reimbursement from the Pennsylvania Department of Education.
1930-1969: From Depression to District Reorganization
The Great Depression altered the context of school reform and school building, as the Works Projects Administration and Works Progress Administration funded the construction of many new schools. Ultimately, the Depression and World War Two halted most school building. When it picked up again in the late 1940s, Americans had adopted new ways of life that fundamentally altered the context of schools and their architecture. Automobile suburbs boomed in the postwar period, and large sprawling schools served by fleets of buses became the norm in both suburban and consolidated rural districts. In Pennsylvania's cities, schools became the focus of Civil Rights, desegregation, and urban renewal campaigns. Like other public and commercial buildings, schools were built according to art deco and modernist designs. The narrative ends in 1969, when school districts across the state were reorganized into the geography that they mainly retain today.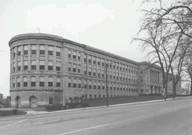 Schenley High School, Pittsburgh, Allegheny County. Designed by noted Pittsburgh architect Edward Stotz, this 1916 Neoclassical school building features a distinctive triangular plan and rounded corners. It represents an early example of a school built to accommodate the innovative, though now familiar.