---
"It's a Beautiful Day in Pennsylvania!"
The Life and Legacy of Pete Wambach
Listen to some examples of Wambach's recordings.
Peter Cyrano Wambach was a Harrisburg broadcaster-journalist for nearly 70 years, and a self-made historian of the Commonwealth of Pennsylvania. His radio program, "This is Pennsylvania," was heard daily on over 100 AM and FM radio stations throughout the state from 1964-1985. His work earned him the name "Mr. Pennsylvania," and millions of radio listeners knew him by his closing tag line, "This is Pete Wambach. It's a beautiful day in Pennsylvania." The 5-minute informative segments that he produced regaled listeners with many little known facts about people, places and things throughout the state. During his career, he produced a total of 2,470 show segments including such varied titles as "The Caves of Pennsylvania," "In Philadelphia," "John White Geary," "Fishing in Pennsylvania," "Farm Vacations," "'B' Dekta Bricka," "The Hiking Trails," "Scranton's Shortstop," and "Merry Weekend in May."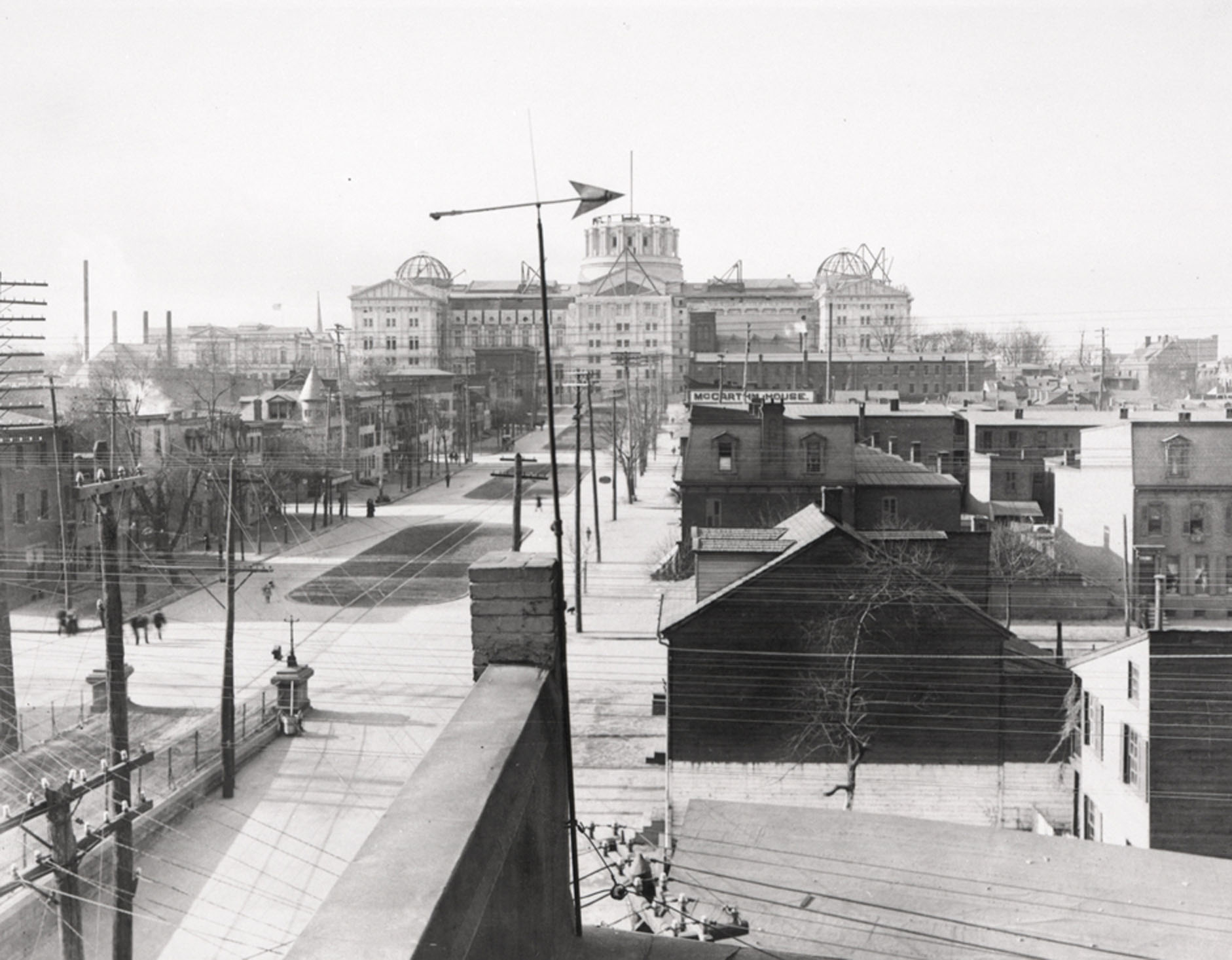 Unfinished Capitol, looking west up State Street, 8th Ward in foreground, Harrisburg, 1904
"This is Pennsylvania" was awarded the George Washington Gold Medal by the Freedoms Foundation for the best radio program by any governmental agency and was supported by the Pennsylvania Association of Broadcasters, whose members donated free air time for its broadcast. Wambach's radio series was a labor of love that he lobbied the Pennsylvania Department of Commerce to fund. When funding for the production, distribution, research and recording of Wambach's program was no longer available in the budget of the Department of Commerce after July 7, 1978, the Department of Revenue briefly provided for the shortfall until June 15, 1979, when the show ended. House Resolution 120 of July 11, 1979 called for the Department of Commerce to resume funding for the program in order to promote tourism and to take advantage of a half million dollars of donated free air time, but the funding was never restored. From 1980 through 1985 the program was, however, returned to the air under the sponsorship of the Pennsylvania Rural Electric Cooperative.

Wambach worked in radio from the late 1930s through the 1980s, instituted the first television-telephone talk show in the United States, and wrote a column entitled "Around the Square" that appeared at various times in both the Harrisburg Patriot News and The Paxton Herald for nearly 25 years. On the political front, he was a statewide leader in the Democratic Party, served as a press aide for Democratic Governor George Leader and for Lt. Governor John Morgan Davis and was an information writer for Democratic Governor David Lawrence. In 1966 he ran unsuccessfully for the position of lieutenant governor, and in 1974 ran a close second for the 17th District Congressional seat won by Herman T Schneebeli.
The Point and environs, Pittsburgh, ca. 1950

Born on July 30, 1916 in Philadelphia, Mr. Wambach was the son of Karl and Magdalena (Lena) Noheimer Wambach. Upon graduating from Girard College in Philadelphia he began his public speaking career as a carnival barker and also worked for Canada Dry Ginger Ale Company. He moved to central Pennsylvania in 1937 where he married Margherita Carmella Zarbo on April 11, 1940 and together they had fourteen children--seven boys and seven girls. During the 1950s he owned a restaurant in the Colonial Park Mall and from the 50s through 1967 he owned Wambach Waxworks, a record distribution company having five warehouses in Pennsylvania. Wambach was also an author, poet, and composer, having written a musical entitled Anthracite! about the coal regions. He was a member of St. Patrick's Cathedral, a founding member of the Diocesan inter-religious council, and was known for his philanthropic endeavors, his contributions of service to social and political causes and his lectures around the Commonwealth. One of the first inductees into the Pennsylvania Broadcasters Hall of Fame, he received numerous other awards during his lifetime, including The George Washington Medal of Freedom, The B'Nai Brith Award and The Four Chaplains Award. In 2005 he was honored at the State Capitol and recordings of more than 2,000 of his broadcasts were turned over to the State Archives to be remembered as a piece of Pennsylvania history. Peter C. Wambach died on May 17, 2007.

"Don't be takers; give back," was the motto by which his children remembered him. It was said of him by Dr. Michael Barton, professor of American Studies at Penn State Harrisburg, that "[He was] one of a kind as a chronicler of the community. He made history and wrote it at the same time. What he's left, we'll refer to as long as we want to know anything about Harrisburg. His best memorial is what he wrote." Today, Peter Wambach's name appears on the Hall of Fame Honor Roll of the Pennsylvania Association of Broadcasters and many Pennsylvanians fondly remember his broadcasts as an illuminating guide to the Commonwealth's multi-faceted history and cultural landscape.

The transcriptions, tapes and records of Wambach's work held by the Pennsylvania State Archives document his acclaimed radio series "This is Pennsylvania." Included in the collection are original reel to reel raw tapes, 33 1/3 rpm record discs containing the actual broadcast versions of the series, and transcripts of the broadcasts. A chronological inventory of the broadcasts is available; please feel free to contact the Archives with requests for broadcasts that are not included on this page. The audio material has been converted by Archives' staff to .mp3 and .wav files, and can be heard in the Archives search room if prior arrangements are made. All of the audio segments contain Wambach's famous tag line "It's a Beautiful Day in Pennsylvania."


The newly-created Benjamin Franklin Parkway, with the Philadelphia skyline and City Hall in the background, 1927
---
#1: All in Pennsylvania. (This serves an introduction to "This is Pennsylvania") Aired June 2-6, 1969. [Transcription]



#2: Pennsylvania Post Marks. Initially aired June 2-6, 1969. [Transcription]


#3: Daniel Boone's Pennsylvania. Aired June 2-6, 1969. [Transcription]


#4: Did you Know This? Aired June 2-6, 1969. [Transcription]



#5: The Red Rose of Manheim. Aired June 2-6, 1969. [Transcription]



#6: James Buchanan and Wheatland. Aired June 9-13, 1969. [Transcription]



#7: The Mighty Muskie. Aired June 9-13, 1969. [Transcription]


#8: Golfing in Pennsylvania. Aired June 9-13, 1969. [Transcription]



#9: Pennsylvania Maple Syrup. Aired June 9-13, 1969. [Transcription]



#10: Erie County. Aired June 9-13, 1969. [Transcription]



#12: Riding the Chester Ferry. Aired June 16 - 20, 1969. [Transcription]



#13: Pennsylvania's Laurel Festival. Aired June 16 - 20, 1969. [Transcription]



#14: Les Brown's Band of Renown. Aired June 16-20, 1969. [Transcription]


#16: Camping in Pennsylvania. Aired June 23-27, 1969. [Transcription]



#18: Slim Croyle's Deer. Aired June 23-27, 1969. [Transcription]


#20: Sprechen Zie Pennsylvania Dutch? Aired June 23-27, 1969. [Transcription]


#31: The Caves of Pennsylvania. Aired July 14-18, 1969. [Transcription]



#37: Covered Bridges. Aired July 21-25, 1969. [Transcription]


#52: Historic Carlisle. Aired August 11-15, 1969. [Transcription]


#55: Our Indian Heritage. Aired August 11-15, 1969. [Transcription]


#58: The Endless Mountains. Aired August 18-22, 1969. [Transcription]


#61: Jim Thorpe. Aired August 25-29, 1969. [Transcription]


#62: Hopewell Village. Aired August 25-29, 1969. [Transcription]


#65: Pittsburgh, Your Kinda Town. Aired August 25-29, 1969. [Transcription]


#75: Home Town - Danville. Initially aired September 8 - 12, 1969. [Transcription]


#78: Bushy Run. Aired September 15-19, 1969. [Transcription]


#89: The French and Indians. Aired September 29 - October 3, 1969. [Transcription]


#93: Flaming Foliage. Initially aired October 6-10, 1969. [Transcription]


#98: The Strasburg Railroad. Initially aired October 13-17, 1969. [Transcription]


#100: Rickett's Glen. Aired October 13-17, 1969. [Transcription]


#110: Hunting in Pennsylvania. Aired Oct 27-31, 1969. [Transcription]



#124: The North Wood Loggers. Aired November 17-21, 1969. [Transcription]


#125: Shut Your Trap! Aired November 17-21, 1969. [Transcription]


#128: Joseph Priestly. Initially aired November 24-28, 1969. [Transcription]


#143: Tom Paine, Independent. Initially aired December 15-19, 1969. [Transcription]


#144: Hail Columbia!. Initially aired December 15-19, 1969. [Transcription]


#148: Washington's Pennsylvania Navy. Initially aired December 20-24, 1971. [Transcription]


#154: Philo McGiffen, Adventurer. Aired December 29, 1969 - January 2, 1970. [Transcription]


#155: The Weeping Squonk. Aired December 29, 1969 - January 2, 1970. [Transcription]


#163: Seneca Wonderland. Aired January 12-16, 1970. [Transcription]


#166: The Shenk Ferry Indians. Aired January 19-23, 1970. [Transcription]


#182: The Whiskey Rebellion. Aired February 9-13, 1970. [Transcription]


#187: Miracle of Beech Creek. Aired February 16-20, 1970. [Transcription]


#199: Mike Fink. Aired March 2-6, 1970. [Transcription]


#202: Travel in Pennsylvania. Aired March 9-13, 1970. [Transcription]



#210: The Inner Frontier. Aired March 16-20, 1970. [Transcription]


#218: Baseball's April Fool. Aired March 30 - April 3, 1970. [Transcription]


#233: Pennsylvania's Leaning Tower. Initially aired April 20-24, 1970. [Transcription]


#276: Old Bronzeback. Aired June 22-26, 1970. [Transcription]


#291: Sullivan County. Initially aired July 13-17, 1970. [Transcription]


#305: Uncle Pete's Remedies. Aired July 27-31, 1970. [Transcription]


#318: The Lobo Wolves. Initially aired August 17-21, 1970. [Transcription]


#332: Asylum for a Queen. Initially aired September 7-11, 1970. [Transcription]


#335: The Lewistown Riot. Initially aired September 7-11, 1970. [Transcription]


#362: Ephrata's Cloisters. Initially aired October 19-23, 1970. [Transcription]


#365: Pennsylvania Clocks. Initially aired October 19-23, 1970. [Transcription]


#387: World Champions. Aired November 23-27, 1970. [Transcription]


#403: Reverence and Response. Aired December 14-18, 1970. [Transcription]


#408: The Pennsylvania Hoaxes. Initially aired December 21-25, 1970. [Transcription]


#520: Bird-Watching in Pennsylvania. Initially aired July 23-27, 1973. [Transcription]


#591: Tavern in the Town. Aired September 6-10, 1971. [Transcription]


#608: Audubon's Home. Initially aired September 27-October 1, 1971. [Transcription]


#629: York, A Nation's Capitol. Aired October 25-29, 1971. [Transcription]


#636: Mine Host at the Tavern. Aired November 8-12, 1971. [Transcription]


#644: Lincoln at Gettysburg. Aired November 15-19, 1971. [Transcription]


#646: Galusha Grow. Aired November 22-26, 1971. [Transcription]


#659: Pon Haus & Scrapple. Aired December 6-10, 1971. [Transcription]


#661: Carpenter's Hall. Aired December 13-17, 1971. [Transcription]


#680: Old Sauerkraut. Initially Aired January 3-7, 1972. [Transcription]


#700: Active Altoona. Aired January 31 - February 4, 1972. [Transcription]


#713: The Minority Governor. Aired February 21-25, 1972. [Transcription]


#724: Blossoming Brookville. Aired March 6-10, 1972. [Transcription]


#731: Legend of Magic Water. Aired March 20-24, 1972. [Transcription]


#739: World's End. Aired March 27-31, 1972. [Transcription]


#746: Socrates of Civil Rights. Aired April 10-14, 1972. [Transcription]




#762: Coudersport's Ice Mine, May 1-5, 1972. Initially Aired May 4-8, 1970. [Transcription]


#766: Unknown Rebel Governor. Aired May 8 - 12, 1972. [Transcription]


#777: Fallingwater. Aired May 22 - 26, 1972. [Transcription]


#778: The Hiking Trails. Aired May 22-26, 1972. [Transcription]



#798: The Purple Martins. Initially aired June 19-23, 1972. [Transcription]


#802: The Battle of Gettysburg. Aired June 26 - 30, 1972. [Transcription]


#805: The Kutztown Folk Festival. Aired June 26 - 30, 1972 [Transcription]


#826: Stalking the Wild Asparagus. Initially aired July 31-August 4, 1972. [Transcription]


#855: Red Rose Rent. Aired Sept 4 - 8, 1972. [Transcription]


#872: Dickens in Pennsylvania. Aired Oct 2 - 6, 1972. [Transcription]


#881: Penn's Creek Massacre. Aired Oct 16 - 20, 1972. [Transcription]


#894: Pennsylvania Mushrooms. Initially aired October 30-November 3, 1972. [Transcription]


#904: Lincoln in Pennsylvania. Initially aired November 13-17, 1972. [Transcription]


#923: Billy the Loner (Newport's Billy Cox). Initially aired December 11-15, 1972. [Transcription]


#944: Mad Anthony's Ghost. Aired Jan 8 -12, 1973. [Transcription]


#951: The Lost Cities. Aired Jan 22 - 26, 1973. [Transcription]


#980: The Haunted Places. Initially aired February 26-March 2, 1973. [Transcription]


#1000: Rockville Bridge, March 26-30, 1973. Initially aired January 4-8, 1971. [Transcription]



Rockville Bridge near Harrisburg, early 20th century (photo property of the Pennsylvania State Archives, asset number m286_1549_Box001_0000_BridgesRockvilleBridge_2)

#1056: Pennsylvania Herbs. Initially aired June 18-22, 1973. [Transcription]


#1061: Know Your Fish. Initially aired June 25-29, 1973. [Transcription]


#1074: Goofy Geography. Initally aired July 9-13, 1973. [Transcription]


#1085: Bird-Watching in Pennsylvania. Aired July 23-27, 1973. [Transcription]



#1095: The High Mountain Tour. Initially aired August 6-10, 1973. [Transcription]


#1111: Allegheny National Forest, September 3-7, 1973. Initially aired April 5-9, 1971. [Transcription]


#1160: Lebanon Valley. Aired November 5-9, 1973. [Transcription]


#1179: Philadelphia City Hall. Aired December 3-7, 1973. [Transcription]


#1223: Pennsylvania's Manheim. February 4-8, 1974. [Transcription]


#1267: The Walk Through The Woods. Aired April 8-12, 1974. [Transcription]



#1290: Mother's Day. Initially aired May 6-10, 1974. [Transcription]


#1291: Presque Isle Peninsula, May 13-17, 1974. Initially aired July 6-10, 1970. [Transcription]


#1294: Pennsylvania Naturally. Aired May 13-17, 1974. [Transcription]



#1295: Pennsylvania Parisienne. Initially aired May 13-17, 1974. [Transcription]


#1301: Elfreth's Alley, May 27-31, 1974. Initially aired June 1-5, 1970. [Transcription]


#1311: Catawissa Bicentennial. Aired June 10- 14, 1974. [Transcription]


#1339: Pennsylvania's Rivers. Aired July 15-19, 1974. [Transcription]



#1364: Little League. Initially aired August 19-23, 1974. [Transcription]


#1376: Constitution Day. Initially aired September 9-13, 1974. [Transcription]


#1388: Pennsylvania Pretzels, September 23-27, 1974. Initially aired April 27 - May 1, 1970. [Transcription]


#1400: Apple Harvest Holiday. Initially aired October 7-11, 1974. [Transcription]


#1417: The Old Time Election. Initially aired November 4-8, 1974. [Transcription]


#1484: I'll Take the Highland. Initially aired September 8-12, 1975. [Transcription]




#1520: Professional Football. Aired October 27-31, 1975. [Transcription]


#1703: The Flying Dutchman. Initially aired July 12-16, 1976. [Transcription]


#1825: Philadelphia's Mummers. Aired December 27-31, 1976. [Transcription]


#1848: Punxsutawney's Ground Hog. Aired January 31 - February 4, 1977. [Transcription]


#2016: The Bloomsburg Fair. Initially aired September 26-30, 1977. [Transcription]


#2120: Early Olympian, Initially aired February 13-17, 1978. [Transcription]


#2122: Capitol at Harrisburg. Aired February 20-24, 1978. [Transcription]


#2370: Pennsylvania Witchcraft, Initially aired January 29 - February 2, 1979. [Transcription]


#2404: Poetess-Laureate from Pennsylvania, Initially aired March 19-23, 1979. [Transcription]


#2427: State Parks. Aired April 23-27, 1979. [Transcription]



RE#74: Kunstfest und Emtefest. Aired June 9-13, 1980. [Transcription]


RE#223: 135 Tons of Winter Fun. Aired January 5-9, 1981. [No Transcription Available]


RE#248: Pennsylvania's Coal "Discovery." Aired February 9-13, 1981. [Transcription]


RE#573: Possible President. Aired May 10-14, 1982. [No Transcription Available]


RE#622: Route Six West. Aired July 19-23, 1982. [No Transcription Available]


RE#649: State of Bridges. Aired August 23-27, 1982. [No Transcription Available]


RE#706: The Duquesne Incline. Aired November 15-19, 1982. [No Transcription Available]


RE#709: Pennsylvania State Bird. Aired November 15-19, 1982. [No Transcription Available]


RE#718: Antrim. Aired November 29- December 3, 1982. [No Transcription Available]


RE#928: Emporium. Initially aired September 19-23, 1983. [No Transcription Available]


---