Governor David Leo Lawrence
Term
January 20, 1959 - January 15, 1963
Affiliation
Democrat
Born
June 18, 1889
Died
November 21, 1966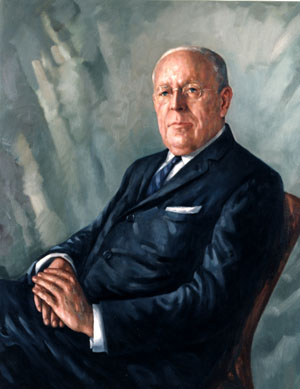 Photo courtesy of Capitol Preservation
Committee and John Rudy Photography
Biography
David Leo Lawrence was the last of Pennsylvania's governors born in the nineteenth century, the first Roman Catholic governor, the leader of Pittsburgh's first renaissance, and a powerful boss of the Democratic machine, which was called the "maker of presidents." Lawrence was born in Pittsburgh on June 18, 1889, the son of Charles B. Lawrence, a warehouseman, and Catherine Conwell Lawrence. Both parents descended from mid-nineteenth century Belfast, Ireland, immigrants. The Lawrence family lived in an Irish-Catholic neighborhood among warehouses, railroad yards, small factories, and houses with illicit vice operations. The area has since become known as the famous Golden Triangle. His father's interest in local politics representing his fellow workers and neighborhood and his mother's demand for self-discipline and high morals were important influences in shaping the future governor.
Lawrence received his education in the city's parochial schools. Few families in his neighborhood could afford schooling beyond the tenth grade, but he did attend a two-year commercial course at St. Mary's School. While most of his peers found blue-collar jobs, Lawrence went to work in a white-collar job upon graduation. Lawrence did not attend college, but he read continuously to overcome educational shortcomings and, as governor, surrounded himself with highly educated appointees. In 1903, at age fourteen, Lawrence was accepted as a clerk-stenographer in the law office of William J. Brennen, chairman of Pittsburgh Democrats, and who became an important mentor to Lawrence. Both were sympathetic to the cause of the labor movement and Brennan infused Lawrence with a love of Democratic politics. By 1912, Lawrence attended his first national Democratic Party convention as a page and would attend every national convention for the rest of his life. In 1916, he formed an insurance agency partnership with state Senator Frank Harris. After he bought out Harris's interests, the insurance company provided a moderate income for the Lawrence family through 1944. Lawrence often advised young politicians to develop an outside business as a hedge against unemployment by the electorate. In 1917, he formed the "David Leo Lawrence Political Club" to discuss politics and candidates as well as campaign for Democrats. However, at that time Democrats had little hope of winning seats in the mayor's office or on city council.
World War I interrupted politics for Lawrence in 1918 and he enlisted in the Army. He served in the adjutant general's office in Washington, DC, and was commissioned as a second lieutenant by the time he returned to his insurance business and politics in the spring of 1919. The following year Lawrence became chairman of Allegheny County Democrats and spent the next twelve years building a party power base where none had previously existed.
On June 8, 1921, he married Alyce Golden, daughter of Irish immigrants John and Anna Golden. They had two daughters, Anna Mae Donahoe and Mary Alyce Gannon, and a son, Gerald, a graduate of LaSalle College, Philadelphia. The Lawrences had two other sons who met with tragedy. William Brennan, named after Lawrence's mentor, and David Leo Jr. were killed on April 19, 1942, in an automobile accident near Zelienople, about twenty-five miles north of Pittsburgh. The loss deeply affected the family and Lawrence reacted by throwing himself deeper into his work. Traffic safety would later become an important part of the governor's agenda.
Lawrence ran for county commissioner in 1931, and although he lost, cracks in the Republican political machine, scandals in the city and county political offices, and the economic impact of the Depression indicated to Lawrence that changes were possible. In 1933, President Franklin D. Roosevelt appointed him U.S. collector of the Internal Revenue Service for the western district of Pennsylvania. In 1934, his statewide reputation expanded when he was appointed secretary of the Commonwealth by the first Democrat elected governor since 1890, George Earle. That same year, Lawrence became Democratic State Chairman, a post he held until 1945. In 1940, he was elected Democratic National Committeeman, a post held until his death.
In 1944, the National Municipal Review called Pittsburgh "the dirtiest pile of slag in the United States." Industrial pollution was fouling the city's rivers, floods frequently hit the downtown area, the air was very unhealthy to breathe, neighborhoods were blighted by an erratic economy, and many businesses were threatening to leave the area. In 1945, he was elected mayor of Pittsburgh by 14,000 votes, the first of four successive terms, unprecedented in the city's history. Although Lawrence was a dedicated Democrat and built a powerful political machine, he was pragmatic at the same time. He succeeded in forming friendships and alliances with Republicans and garnered bi-partisan coalitions for the common good. Lawrence had proposed a seven-point program for Pittsburgh during his campaign and the projects completed during his administration became known as Pittsburgh's "Renaissance I." He convinced Richard Mellon of the powerful Mellon family, among other influential community leaders, to join in a partnership to improve the city. Mellon generally favored Republican office holders, but his cooperation and involvement was critical to leading the city's renaissance. On November 18, 1946, the Urban Redevelopment Authority of Pittsburgh was incorporated. Lawrence served as chairman of the authority.
Lawrence's accomplishments in the thirteen years he served as mayor began with the organization of action groups to eliminate the smoke choking the city. Thus freed of smog, Pittsburgh has become a model of urban renewal and redevelopment with its collection of skyscrapers, a new airport, new bridges, expressways, parks, expanding universities, a new medical center, civic and cultural center, and public housing units. Fortune magazine named him one of the nine outstanding mayors of the United States in 1957, and Pittsburgh was cited as one of the ten best-governed cities. A past president of the U.S. Conference of Mayors, he was the only mayor to receive its Distinguished Service Award for "outstanding contributions to his city, state and nation." He also served as a member of the board of the University of Pittsburgh.
As a respected mayor and statesman among urban leaders across America, the leader of Pennsylvania's Democrats, and the craftsman of Pittsburgh's revival, Lawrence was the clear choice for governor in 1958 to succeed George M. Leader. Governor Leader had helped Lawrence by being the first Democrat elected to the top state office in twenty years and only the third Democrat elected since the Civil War. Putting principles ahead of politics, Lawrence at first questioned his party's draft of him as the endorsed candidate. He was concerned about his age, unfinished work in Pittsburgh, and prejudices against his religion. Lawrence was a Roman Catholic, an issue that would also be publicly raised for the candidacy of President John F. Kennedy in 1960. Some critics believed, or promoted for political reasons, that Roman Catholic office holders would sacrifice loyalty to state and country in favor of allegiance to the Pope. As in the case of President Kennedy, the allegations proved to be unfounded and Lawrence became the state's first Catholic governor. Lawrence defeated Republican Arthur T. McGonigle, a Reading millionaire who owned Bachman's Pretzel Bakery, the largest pretzel manufacturing company in the country, by about 76,000 votes out of nearly four million cast. However, Lawrence's coattails could not carry other key Democrats. Governor Leader lost the U.S. Senate race to Hugh Scott and the General Assembly was narrowly split—Democrats controlled the state Senate while Republicans controlled the state House of Representatives. Lawrence would have to continue to forge coalitions.
Although the governor inherited a budget deficit from Governor Leader, Lawrence continued many of Leader's programs and retained most of Leader's cabinet. In 1962, Lawrence became the first governor to tally a $1 billion budget. To balance the budget, the legislature approved a raise in the state's sales tax to 4 percent. In addition to priorities in traffic safety, reasulting in a decline in deaths and injuries, and a balanced budget, Lawrence worked to bring more industry to Pennsylvania, promote tourism, pass new anti-discrimination laws, and create new education programs. Strongly committed to preserving the state's history, he promoted the building of the William Penn Memorial Museum (now The State Museum of Pennsylvania) and the State Archives Building, as well as "Operation Heritage" projects to revitalize the state's historical sites.
As a maker of presidents, Lawrence helped gain the nomination of Franklin Roosevelt at the Democratic Convention of 1932, as well as the nomination of Harry Truman for vice president in 1944. Even though he had supported Adlai Stevenson in two previous nominations for president, in the convention of 1960, Lawrence believed that Stevenson represented the old Democrats and a new leader had emerged, John F. Kennedy. When Lawrence announced his endorsement of Kennedy for president, many uncommitted convention delegates followed Lawrence's lead to add momentum to for the nomination. Kennedy won the nomination with a narrow margin of 45 votes out of 761 needed to win. However, differences between northern and southern Democrats threatened to weaken the party. It was Lawrence who met with Kennedy, who represented the northern states, several times to urge him to select Lyndon Johnson of Texas for vice president, thus presenting a strong united party to the voters. The strategy, of course, succeeded in helping the Kennedy-Johnson ticket win in November, defeating Richard Nixon by the second narrowest margin in presidential election history.
Before concluding his term as governor, Lawrence saw to the passage of the Fair Housing Law of 1961, air pollution control, and the Library Code of 1961 that expanded library services where an estimated two million Pennsylvanians had little or no access to libraries. He also signed measures allowing Sunday liquor sales in Philadelphia hotels, betting on harness races (a measure that took thirty years for the legislature to pass), and formed a Committee on Education that thoroughly investigated Pennsylvania's educational institutions. They produced a 2,091-page report advocating massive changes, including consolidating school districts, requiring higher standards and pay for teachers, and tripling the enrollment at state colleges.
After leaving office in 1963, Lawrence continued to serve as elder statesman of his party. He accepted a new role in public service that same year. President Kennedy appointed the former governor to serve as chairman of the newly created President's Committee on Equal Opportunities in Housing, a cause Lawrence had championed throughout his public career. Lawrence continued until 1966 as chairman under President Johnson after the assassination of President Kennedy.
Lawrence was dedicated to unity and was a pragmatic politician to the end. A month before he died, he told a reporter that he had no intention of retiring. "Keep at your work and when your time comes, why not die in harness?" Lawrence was quoted. On the evening of November 4, 1966, he made his final public appearance at Pittsburgh's Syria Mosque to speak on behalf of gubernatorial candidate Milton Shapp. Shapp had trampled the Democrats' endorsed candidate in the primary, Robert P. Casey. The state Democratic machine had been weakened, so Lawrence was there to plead for party unity as he had done in the past. Before he could finish his speech, Lawrence collapsed and remained unconscious for the next seventeen days without ever learning that Republican Raymond Shafer won the election. David Leo Lawrence died on November 21, 1966, and is buried in Calvary Cemetery in Pittsburgh.