Governor George Michael Leader
Term
January 18, 1955 - January 20, 1959
Affiliation
Democrat
Born
January 17, 1918
Died
May 9, 2013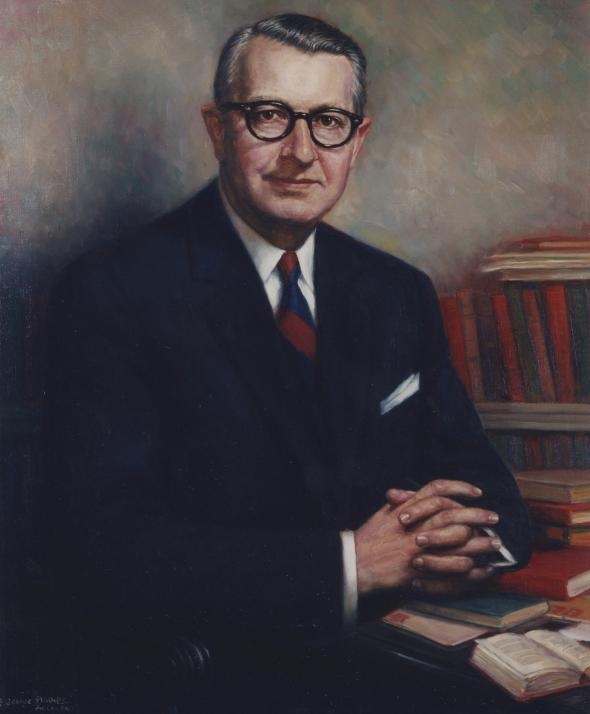 Photo courtesy of Capitol Preservation
Committee and John Rudy Photography
Biography
The George Michael Leader administration is noted for its accomplishments in promoting human welfare, bringing new jobs to Pennsylvania; expanding education opportunities for the physically and mentally handicapped, and improving highway safety. Others laud his efforts to bring state mental institutions out of the "Dark Ages." Nursing home inspections were begun and the Pennsylvania State Office of Aging was established. Another program for which Governor Leader expressed his pride is the state's first licensure program for practical nurses.
Leader was born the third of seven children on January 17, 1918 to Guy A. Leader and the former Beulah Boyer. Like his Pennsylvania Dutch family that had farmed in York County for several generations, Leader grew up on his parent's poultry farm. He attended a one-room schoolhouse in present-day Leader Heights, then the city's York High School. Leader continued his studies at Gettysburg College then went to the University of Pennsylvania for graduate work in philosophy, economics, and political science and had planned to be a teacher. In 1939 he married Mary Jane Strickler whom he had dated since high school.
During World War II Leader served as a Navy ensign aboard the aircraft carrier U.S.S. Randolph assigned to patrol in the Pacific Ocean. When the war ended he returned to York County, purchased Willow Brook Farm and began a successful family-operated chicken hatchery. In the late 1940s, Leader launched a political career, first as secretary, then chair, of the York County Democratic Committee. At the time his father was a state senator representing the 28th District. Leader was credited with building a credible Democratic organization that challenged the tradition of "machine" politics that had dominated York County. In 1950, the younger Leader won his father's state Senate seat when Guy Leader decided to retire.
In 1952, Leader ran for state treasurer. Though he lost to Republican Weldon Heyburn, Leader proved to be an avid campaigner who earned statewide name recognition. Shortly thereafter, he launched a bid for the1954 gubernatorial contest. It was an election that many politicos—including prominent Philadelphia Mayor and fellow Democrat Joseph Clark—thought could not be won by a Democratic candidate.
As in his state treasurer's race, Leader campaigned vigorously for the governorship and was among pioneering candidates who utilized media advertising and professional pollsters. Among his major themes were state aid for job creation, an end to one-party control in Harrisburg, and a progressive system of taxation to cure a growing state budget deficit. With the backing of the state's Democratic Party and with agrarian and labor support, Leader and his lieutenant governor candidate, Roy Furman, defeated Governor John Fine's Lieutenant Governor Lloyd Wood by 280,000 votes. His win was an upset, especially since the GOP had a voter registration edge of nearly one million. Leader was the second youngest person yet elected to the post (Robert E. Pattison, 1883-1887 and 1891-1895, was thirty-three when he assumed his first term). He took office on January 18, 1955; the second Democrat to that point born in the twentieth century to hold the post.
Significant issues faced Leader, including a poor economy and an insolvent state budget. While post World War II economic growth raised the standard of living for most Pennsylvanians, by the 1950s statewide unemployment once again crept upward. By 1958 it reached 10 percent, among the highest of any state. Communities that were dependent upon single industries—such as coal and steel—saw unemployment rates of 15 percent or more. Leader was critical of the fact that the Commonwealth had no substantive policy to attract and retain new and diverse industries. In response his administration enacted the Pennsylvania Industrial Development Authority (PIDA) in 1956. A fixture of economic development policy to the present day, PIDA buttressed the work of regional industrial development authorities by providing state financing to private enterprises as an incentive to locate in distressed communities. In its first thirty months the program attracted seventy-one new or expanded business facilities and 12,000 new jobs. By 1980 the program allocated a half-billion dollars to over 1,300 new or expanded businesses across the state. PIDA also served as a model for federal Appalachian economic development policy that culminated in the creation of the Appalachian Regional Commission in 1965.
Leader inherited a $75 million budget deficit from Governor Fine and, along with it, the public's dislike of Fine's one percent sales tax. To ensure the Commonwealth's solvency, Leader proposed an income tax designed to place a greater onus on higher incomes and investment returns. He found slim support for the measure in the Democratic House of Representatives and vehement opposition in the Republican-controlled Senate. After a seventeen-month stalemate Leader was forced to abandon his proposal and increased the sales tax to three percent, a move that displeased the public.
Despite this setback, Leader pressed forward with an aggressive agenda. He increased by ten thousand the number of jobs in the Civil Service system to insulate them from patronage and to professionalize the day-to-day affairs of government. In a highly publicized campaign, Leader set out to reform state mental hospitals by reducing overcrowding and replacing "warehousing" of the mentally ill with professional treatment programs. Leader also provided state support for the education of children with disabilities, and established a program to expand the state park system.
Ending a twenty-year legislative debate on what role—if any—the state should play in civil rights, Leader signed legislation creating the Fair Employment Practices Council to police employment discrimination. In the summer of 1957, when William and Daisy Myers family encountered racial hostility, threats, and violence for moving into predominantly white suburban Levittown, Bucks County, Leader responded by assigning the Pennsylvania State Police to keep peace. He voiced support for the family to live as they chose. He also ordered the Commonwealth's attorney general to prosecute those who had discriminated against the Myers family.
In the era of Sputnik, the world's first space satellite, and the Cold War with the former Union of Soviet Socialist Republics, Leader expanded state aid to school districts and to the fourteen state-owned colleges. Teachers, widely considered to be underpaid, had their salaries increased by 20 percent. In addition to increasing workers' and unemployment compensation payments, in 1958 he opened the Pennsylvania Department of Labor and Industry's Vocational Rehabilitation Center in Johnstown. Later known as the Hiram G. Andrew's Center, it was the only facility of its kind in the nation to provide rehabilitation and job training to people with disabilities. Also, for the first time, the state regulated the discharge of radioactive water from nuclear reactors.
These accomplishments came despite the fact that the Pennsylvania House of Representatives joined the Senate and gained a decidedly Republican majority during the second-half of his term. Moreover, Leader endured and, by most measures, overcame criticism that he was too young and inexperienced for the task of governing such a large and diverse state, although he did suffer another political setback. In 1958, he waged and lost a campaign for U.S. Senate against then Sixth District Congressman Hugh Scott. Leaving Harrisburg in early 1959, Leader bowed out of public service, became a mortgage banker, and established Leader Nursing Homes, Inc. He remained active in public affairs, served as a delegate to Democratic National Conventions, supported various candidates and positions on political issues, and maintained associations with prominent public figures.
In the 1980s and 1990s Governor Leader and his family established Country Meadows and Providence Place Retirement Communities, with ten retirement home locations in or near Allentown, Bethlehem, Hershey, Lancaster, Mechanicsburg, Pittsburgh, Wyomissing, two locations in the York area, and one in Frederick, Maryland. He spearheaded numerous community and philanthropic initiatives, lectured on issues ranging from wellness to public education, and completed a book of inspirational poetry in 2001 titled, Healing Poems.
Governor Leader died at his home in Hershey on May 9, 2013.