1865-Present: Military Cemeteries
The Civil War established a need for large burial grounds for soldiers, veterans, and their dependents. Congress created 14 national cemeteries during the war, of which the most significant and precedent-setting were Arlington National Cemetery, Virginia, and Gettysburg National Cemetery, Pennsylvania, (1863), the first large military burial ground established in the United States. Gettysburg is characterized by identical stone tablets laid out in neat rows, a pattern used for later military cemeteries. By the end of the war, Congress had established 13 more cemeteries. Most were located near the place of battle and consecrated by the leaders of the nation. President Abraham Lincoln's famed address was delivered at the Gettysburg National Cemetery. Veterans' cemeteries continue to be established or enlarged as needed to accommodate the passing of veterans.
The Civil War military cemetery designs established patterns that were often copied again for non-sectarian cemeteries or other hallowed ground established to memorialize victims of specific catastrophes. The design of Greenwood-Knights of Pythias Cemetery in Philadelphia (1864) and Grandview, the burial site for victims of the Johnstown flood (1889), are examples.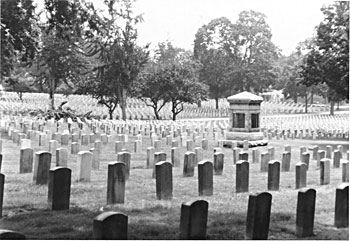 Philadelphia National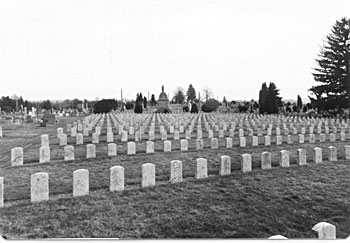 Johnstown Flood Memorial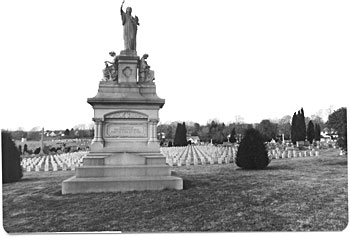 Johnstown Flood Memorial