Governor Francis Rawn Shunk
Term
January 21, 1845 - July 9, 1848 (resigned)
Affiliation
Jacksonian Democrat
Born
August 7, 1788
Died
July 20, 1848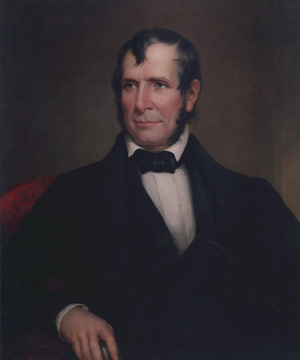 Photo courtesy of Capitol Preservation
Committee and John Rudy Photography
Biography
Despite coming from a poor, but close knit, agricultural family and laboring in the fields from the age of ten, Francis Rawn Shunk was teaching school by the age of sixteen. Born August 7, 1788, in the village of Trappe, Montgomery County, he was the son of John Shunk and Elizabeth Rawn, both of Palatine German descent. Shunk continued to teach and farm until 1812 when he was appointed clerk by Andrew Porter, surveyor general of Pennsylvania and the father of a future governor, David R. Porter.
When Washington, D.C., fell to the British in 1814, during the War of 1812, Private Shunk was part of the Pennsylvania emergency force that joined in the successful defense of Baltimore. Shortly afterwards, he became the principal clerk of the state House of Representatives during the administration of Governor William Findlay. In 1820, Shunk married the governor's daughter, Jane. They were the parents of two daughters and one son. Between 1829 and 1839, Shunk served as secretary of the Board of the Canal Commission during a period when major canal and railroad construction projects in Pennsylvania were being completed.
At the same time, bitter political rancor developed in state government between members of the Anti-Masonic Party and the Jacksonian Democrats, as well as serious divisions within the Democratic Party. An attempt was made to organize a second House of Representatives, but Shunk was a calming influence toward maintaining the assembly's traditional organization. Democratic Governor David Porter then appointed Shunk secretary of the Commonwealth. Ironically, while Governor Porter demanded greater separation of powers from the legislature, Shunk was dissatisfied with the lack of autonomy of his office. He resigned as secretary rather than submit to demands of the governor's office.
He moved to Pittsburgh to practice law, but he received an unexpected call to become governor. The nominated Democratic gubernatorial candidate, Henry A. Muhlenberg, died unexpectedly on August 11, 1844. Shunk's sixteen years of clerking in the state house, his middle ground between Muhlenberg and Muhlenberg's former party rival, Governor George Wolf, and Shunk's assistance in restoring order during the "Buckshot War" crisis after the controversial defeat of the Anti-Masonic incumbent, Governor Joseph Ritner, made him the preferred choice to be substituted as the candidate for governor. Shunk defeated his Whig opponent, Joseph Markle, by less than 4,300 votes.
Once in office, he continued Porter's debt reduction and strict frugality, and he vetoed several bank charters and bills giving special favors to business interests. At the same time the Pennsylvania Railroad, considered vital to the state's transportation needs, was chartered in 1846. Although he believed that government that governed least is best, Shunk also pushed for social legislation, seeking greater protection of the poor from the hands of those with concentrated wealth, strong support of public education, and making it more difficult to dissolve marriages. From 1829, the General Assembly grew increasing lax in allowing important legislation to be left in the hands of transcribing clerks without supervision instead of legislators insuring that the completed bills were presented to the governor for signature exactly as passed before adjournment. The governor forced legislators to reconvene, refusing to sign any legislation that did not follow procedures established by the state constitution.
During Governor Shunk's administration, Pennsylvania troops were dispatched to fight in the war with Mexico (1846-1848). He also continued to repair Pennsylvania's impaired credit rating and worked toward a balanced budget. In 1847, Shunk ran for office as a Democratic friend of James Buchanan. Buchanan was then the U.S. secretary of state, a former U.S. senator, and possible candidate for president. Shunk was elected to a second term, this time by a wider margin, over the Whig candidate James Irvin, and Native American candidate Emanuel Reigert. Unfortunately, Governor Shunk contracted tuberculosis and was forced to resign on July 9, 1848. Eleven days later on July 20 Shunk died from the disease at the age of fifty-nine. He is buried in Augustus Lutheran Church Cemetery in the town of Trappe where he was born.