Governor Joseph Hiester
Term
December 19, 1820 - December 16, 1823
Affiliation
Old School Jeffersonian Democrat
Born
November 18, 1752
Died
June 10, 1832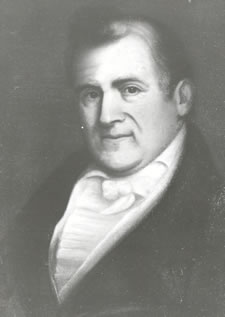 Biography
Six feet tall, weighing two hundred pounds, walking with a Malacca cane, Joseph Hiester was known as "Old German Grey," and spoke with a lingering Pennsylvania German accent. Born November 18, 1752, to a Berks County farm family, John and Mary Barbara (Epler) Hiester, of the German Reformed faith, young Hiester worked on the family farm until 1771, when he married Elizabeth Whitman. As a Whig sympathizer, he fervently opposed the proprietary government and was a representative to the state convention, which assumed governing control at the outset of the Revolution. As a captain of militia, Hiester was zealous in raising soldiers at the beginning of the Revolution and served with distinction. Captured near Long Island, after many of his compatriots were wounded or killed, he suffered harsh treatment while confined on British prison ships. After he was released in a prisoner exchange and recovered at his home in Reading, Hiester returned to duty, but was wounded in the head, although not severely, in the battle of Germantown. Following the war, Hiester partnered with his father-in-law, Adam Whitman, in the mercantile business, but soon shifted his attention to politics.
In 1779, Hiester was one of the commissioners of exchange, seizing property from Revolutionary "traitors." From 1780 to 1805, he served five annual terms in the state House of Representatives, four in the state Senate, and then fourteen years in Congress, as well as attending the State Constitutional Convention of 1789-1790. In 1807, he was commissioned as a major general of the state militia and, after 1810, he chose the "Old School," or "Independent" wing of the Jeffersonian Democrats, who opposed nomination by a rigid legislative caucus. Defeated for governor in 1817 by William Findlay, he returned triumphant in 1820 to occupy the governor's residence, then at 21 North Front Street in Harrisburg, today the location of the Art Association of Harrisburg. Hiester profited from key endorsements of influential Philadelphia newspapers and public nostalgia for "the old general," a Revolutionary veteran. The Panic of 1819, impeachment proceedings against Governor Findlay, and the undemocratic appearance of the "New School's" caucus nominations helped him to victory. His own power and accomplishments were reduced, ironically, by reducing expenditures, working to reduce corruption, and appointing men on their merits without consideration of political or social connections, all of which weakened his own party. Beginning his term at age sixty-eight, Hiester had initially been a reluctant candidate for governor, but by the end of his term refused to allow his name to be considered for a second term.
Social progress occurred while he was in office, although not credited to the governor, but he is credited with helping to extend additional education for citizens at little cost and he presided over the dedication of the first state capitol building in Harrisburg. After his term was over, he returned to Reading where he managed several farms and mercantile businesses. Hiester died on June 10, 1832, was originally interred in Reading's Reformed Church Burying Ground, and later reinterred in Charles Evans Cemetery, Reading.