Governor John Andrew Shulze
Term
December 16, 1823 - December 15, 1829
Affiliation
Jeffersonian Democrat
Born
July 19, 1774
Died
November 18, 1852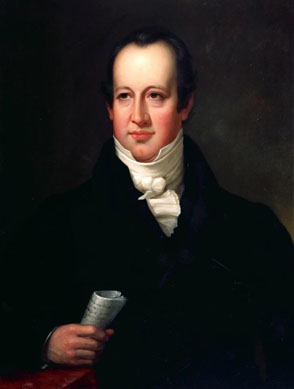 Photo courtesy of Capitol Preservation
Committee and John Rudy Photography
Biography
Rheumatic fever ended the ministry of John Andrew Shulze, but this proved to be the event that led to a career in politics. Born July 19, 1774, in Tulpehocken Township, Berks County (now part of Lebanon County), Shulze was the son of a German Lutheran minister, the Reverend Christopher Emmanuel Shulze, and Eve Elizabeth Muhlenberg, daughter of the famous Henry Melchior Muhlenberg who is referred to as "the Patriarch of the Lutheran Church in America."
Shulze, whose native language was German, was tutored in English by his father, received an education in the eminent Lutheran atmosphere of Lancaster's Franklin College and classical studies in New York City. He was ordained a Lutheran clergyman in 1796, but his illness in 1802 left him physically unable to continue with his congregation in Berks County by 1804. He began a new life, marrying Susan Kimmell, with whom he had five children, and by opening a mercantile store in Myerstown, which brought him wealth within a decade.
In 1806 he was elected to the General Assembly, but Shulze declined to run for a fourth term. Although he turned down Governor Snyder's appointment as state surveyor general, he simultaneously accepted four row offices, from 1813-1821, in newly created Lebanon County. In 1821 he returned to the General Assembly, followed by being elected state senator in 1822 for Dauphin and Lebanon Counties by a large vote margin, despite a well-organized opposition. By 1823, a clique of politicians and office holders known as the "New School" or Family Party stood for many of the ideas of Jeffersonian Democrats They chose Shulze to run for governor against former U.S. Senator Andrew Gregg, Shulze won the election 89,907 to 64,100 votes. In March 1824, many Pennsylvanians went wild for Andrew Jackson for president at a mass meeting in Harrisburg and the Family wing of the party elevated the relatively obscure Shulze, who was later courted by two opposing factions of the Jackson Party. Although Andrew Jackson won both the popular vote and the Electoral College, he did not have a clear majority. The U.S. House of Representatives awarded the presidency to John Quincy Adams. In his reelection in 1826, Shulze, who did not want to be tied to Jackson, defeated Federalist candidate John Sergeant by an astounding ninety-eight percent of their combined votes.
Progress in transportation occurred under Shulze, especially in the form of the state owned canal system—with connecting railroads—known as the State Works. This linked Philadelphia and Pittsburgh, with connections to Baltimore and New York. Shulze opposed the first big canal appropriation—one million dollars—but yielded because of its popularity, and six million dollars would be spent on Pennsylvania's internal improvements during his administration. Although the State Works increased his patronage power immensely, Shulze deliberately avoided links to national politics and politicians. One of Shulze's highest priorities was public education. He believed that all Pennsylvanians, including the poor, had a right to an education and appealed to the General Assembly to establish a public school program. Although the legislation failed to pass during his administration, his efforts promoted enough widespread interest in the idea so that an elementary education system would be established during the administration of his successor, George Wolf.
Shulze declined a third term in office and purchased a five hundred acre farm in Montoursville, Lycoming County. He briefly returned to public life in 1839 when he was elected as a senatorial delegate to the first national Whig Party convention held in Harrisburg, where he was considered, but not selected, as a candidate for U.S. vice president. In 1840 he was unanimously chosen as president of the Electoral College, which elected William Henry Harrison as the ninth U.S. president. Shulze moved his family to Lancaster in 1846 where he died November 18, 1852. He is interred in Lancaster's Woodward Hill Cemetery.