Hubert Fountleroy Julian - 1920s
Images
Click images for larger versions.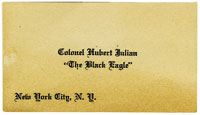 History
Manuscript Group 281, Samuel W. Kuhnert Papers, [1897-1976], 30 cu. ft.
The Pennsylvania State Archives holds Manuscript Group 281, the Samuel W. Kuhnert Papers (1897-1976), which contains thirty cubic feet of materials, including more than six thousand photographic prints and negatives depicting the early years of aviation in central Pennsylvania. Born in Steelton, Dauphin County, Samuel W. Kuhnert (1890-1978) grew up on a farm near Halifax, Pennsylvania, and operated a photography processing studio at his home in Camp Hill, and later on North Third Street in Harrisburg. In 1919, he became interested in aviation and took his first aerial photographs of Harrisburg on June 7, 1920, from a Curtiss "Jenny" biplane.
An undated photograph by Kuhnert shows Hubert Fountleroy Julian (1897-1983) during an early visit to Harrisburg's Penn-Harris Airport and Beckley College School of Aviation in his Packard Bellanca Pacemaker monoplane NR782W, with which he set a nonstop non-refueling endurance record of 84 hours and 33 minutes in 1931. Born in Trinidad, the son of a cocoa plantation manager, Julian was given his first airplane ride--which lasted a mere ten minutes--in a Sopwith Camel biplane by World War I flying ace William A. "Billy" Bishop (1894-1956) in 1919.
He moved to Harlem, New York, in 1921 and the following year began flying his own airplane over parades in New York City supporting Marcus Garvey (1887-1940), founder of the Universal Negro Improvement Association and African Communities League. Julian later organized a small all-Black flying circus, The Five Blackbirds, which barnstormed the country. His 1924 attempt to fly solo across the Atlantic to Liberia was cut short when his plane crashed into the ocean off the coast of New York.
Ethiopia's Emperor-elect Haile Selassie (1892-1975) was so impressed by Julian's prowess as an aviator and parachutist that he granted him Ethiopian citizenship, the rank of colonel in the country's air force, and the Order of Menelik II. Selassie also invited Julian to participate in his coronation in 1930. During a rehearsal the day before the elaborate coronation ceremony--which is believed to have cost three million dollars--Julian crashed Selassie's personal de Havilland Gipsy Moth that had been a gift from Selfridges and Company, the famous London department store, and was asked to leave the country.
During World War II, he established Black Eagle Associates which sold arms in Ethiopia, Guatemala, Dominican Republic, Haiti, Pakistan, and the Congo. Widely known by the sobriquet "The Black Eagle," Julian died in Harlem at the age of eighty-six. His visit to central Pennsylvania may have inspired Harrisburg native Daniel Summers Sr. to enroll as one of the original Tuskegee Airmen in 1940.