Governor James Addams Beaver
Term
January 18, 1887 - January 20, 1891
Affiliation
Republican
Born
October 21, 1837
Died
January 31, 1914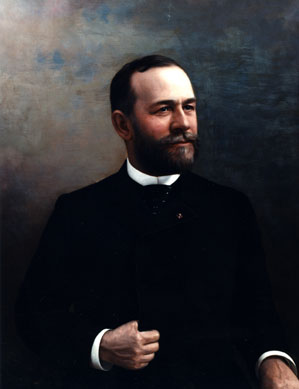 Photo courtesy of Capitol Preservation
Committee and John Rudy Photography
Biography
Like three previous governors, James Addams Beaver was also a hero of the U.S. Civil War. Although General Beaver lost a leg in the war in 1864, his spirit remained intact and he distinguished himself during many years of service to Pennsylvania. Beaver was born October 21, 1837, at Millerstown, Perry County, the third child of Jacob Beaver, a successful general merchant whose grandfather arrived in Chester County from Germany about 1740, and Ann Eliza Addams, from a Presbyterian family that helped settle Millerstown. One of Ann Eliza's brothers commanded two brigades of state militia in the War of 1812 and another brother was a member of the U.S. Congress.
Beaver was less than three years old when his father died in 1840. Beaver's mother remarried in 1845 to a Presbyterian minister, S. H. McDonald, a classical scholar, who became Beaver's mentor, private tutor, and saw to a solid education for his stepson. The family relocated to Belleville in Mifflin County, where he began his formal schooling, although young James Beaver often returned to Millerstown to live with his grandfather and worked on neighboring farms during his summers. His mother kept a silver dollar, his first money earned, for many years as a memento of his youthful industry. After completing studies at Pine Grove Academy, Centre County, he entered Jefferson College, Canonsburg, (now Washington and Jefferson College) as a junior, graduating August 6, 1856. Beaver next studied law with Hugh N. McAllister in Bellefonte and was admitted to the bar January 24, 1859. The association with McAllister proved very important to Beaver. The elder McAllister made Beaver a law partner and, following the Civil War, McAllister became his father-in-law when Beaver married Mary Allison McAllister on December 26, 1865. Together they would have five sons.
Prior to that, Beaver's law career was interrupted on April 18, 1861, when he entered the army during the War of the Rebellion. Within three days he was assigned as first lieutenant of Company H, 2nd Regiment, made up of the former "Fencibles" volunteers of Bellefonte. Three months later on July 22, Governor Andrew Curtin appointed him lieutenant colonel of Pennsylvania's 45th Regiment, serving with that regiment until September 4, 1862. His most significant role in the Civil War took place after September 8, 1862, when Colonel Beaver took command of the of the 148th Regiment, Pennsylvania Volunteers. Between May 1863 and August 1864, Beaver was wounded four times. A nearly fatal wound suffered August 25, 1864, at Ream's Station, North Carolina, resulted in the amputation of his right leg at the hip. On September 3, close to death, Beaver scratched three words in his diary, "Commenced to die." By November 10, however, Beaver was transferred to his home and was informed that President Lincoln brevetted Beaver brigadier general, in recognition of his meritorious service, especially for his distinguished leadership at the battle of Cold Harbor, Virginia, in June 1864. With the exception of later serving as a major general and brigade commander in the Pennsylvania National Guard, 1867-1887, Beaver's military career ended and he was mustered out on December 22, 1864.
Returning to work with his law partner, H. N. McAllister, who had built a successful firm during the war, Beaver, except for becoming chief burgess of Bellefonte in 1865, was determined to avoid running for office and concentrate on a law career. He also served on the board of trustees for Pennsylvania State College (later Pennsylvania State University), Washington and Jefferson College, and Lincoln University, for the education of African American men, at Oxford, Pennsylvania. He was persuaded by Governor Curtin to submit his name for the state house in 1865 with the understanding he would not actively campaign, although he lost by only 141 votes. He continued to decline various other offers, including a run for Congress, and a nomination for governor in 1878. However, Beaver campaigned vigorously for Republican candidates and the Republican Party's eventual choice for governor, Henry Hoyt. In 1880, Beaver was unanimously elected chairman of the Pennsylvania delegation to the Republican presidential convention in Chicago. Beaver's name was circulated as a leading candidate for James Garfield's vice president, but again, Beaver quickly squelched the movement. However, Beaver's supporters, determined to see Beaver run for office, had succeeded in keeping the war hero prominent in political circles.
Finally, the Republican Party convinced Beaver to run for governor in 1861. However, the Republican Party, despite holding power in Harrisburg, was weakened by infighting and a poor economy, leading voters to choose Democrat Robert Pattison. However, the state Constitution of 1874 prohibited a governor from serving two successive terms, which then made Beaver the choice of the voters when he defeated Democrat Chauncey F. Black in the election of 1886.
Once in office in 1887, Governor Beaver set out to make substantial improvements in education and to the state's roads. Despite his heroic military background and often being addressed as General Beaver, the governor refused to use the state militia except for extreme emergencies. He also promoted conservation measures for forests and waterways, while advocating temperance legislation. He reduced the state debt by three million dollars and responded quickly to the victims of the disastrous 1889 Johnstown flood. Beaver's administration also helped settle the issues of reapportionment of voter districts, codified laws relating to the poor, and regulated coal to reduce waste. While governor in 1888, he also became the first layman in the history of the Presbyterian Church to serve as vice-moderator of the church's national general assembly.
After leaving office in 1891, Beaver returned to his law practice, but he continued to have a varied and publicly involved career. He served as president of the Blubaker Coal Company in Cambria County, but his final high mark was being appointed by Governor Hastings as one of seven judges to serve on the first state Superior Court, established in 1895. The court provided relief to an overburdened state Supreme Court and became a model for similar courts in the U.S. and throughout the world.
Beaver served as a Superior Court judge until he died on January 31, 1914. He is buried in Union Cemetery in Bellefonte, Centre County. Beaver was one of five Pennsylvania governors and two governors of other states who resided in Bellefonte.