Governor William Cameron Sproul
Term
January 21, 1919 - January 16, 1923
Affiliation
Republican and Washington Parties
Born
September 16, 1870
Died
March 21, 1928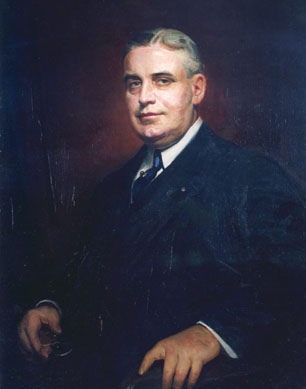 Photo courtesy of Capitol Preservation
Committee and John Rudy Photography
Biography
William Cameron Sproul was named by newspapers in his day as the "father of good roads" in Pennsylvania. Turning away from a path that could have led directly to the nation's presidency, Sproul chose instead to focus his public service on the Commonwealth. Sproul was born near Octoraro and Andrew's Bridge (Kirkwood), Colerain Township, Lancaster County, on September 16, 1870. Known on the National Historic Register as the John Douglass House, the privately owned structure where Sproul was born still stands. Sproul was the son of William Hall Sproul and Deborah Dickinson, a Quaker. Several years of his childhood were spent at Negaunee, in the Upper Peninsula of Michigan, where he began his schooling. The family returned to Lancaster County in 1882 and moved to Chester County in 1883 where Sproul graduated from Chester High School in 1887 and, with honors, from Swarthmore College in 1891.
He entered business immediately after college and worked extensively as an editor and publisher, with a half-interest in and as president of the Chester Daily Times and the Morning Republican. He also held key positions and interests in manufacturing, mining, iron processing, railroads, banking, and farming enterprises in Pennsylvania and other states. In 1898, he married Emeline Roach, the daughter of Chester County shipbuilder John Roach. The governor was the father of Dorothy Sproul Klaer, widow of Captain Henry J. Klaer, and daughter of Captain John Roach Sproul.
He was elected to the state senate from Delaware County in 1896, and re-elected in 1900, 1904, 1908, 1912, and 1916, and elected as president pro tempore of the senate in 1903 and 1905. While he was a senator, he continued to expand his education, became involved in philanthropic missions, and gained respect among political leaders. In 1906, as a trustee of Swarthmore College, he personally funded the acquisition of research-quality astronomical equipment, including a photographic telescope, for the college. The college's Sproul Observatory was later built and named after their famous alumnus and benefactor. Sproul received a doctor of laws degree from Franklin and Marshall College in 1912 and later received honorary doctorates from Pennsylvania College at Gettysburg, the University of Pennsylvania, Swarthmore, University of Pittsburgh, Pennsylvania Military College, Lafayette College, Allegheny College, and Grove City College.
It was also while he was senator, on May 31, 1911, that Sproul successfully sponsored the Sproul [Highway] Act. This legislation created the state road system to be constructed and maintained solely at the expense of the state. Sproul held the simultaneous positions of chairman of the Pennsylvania Historical and Museum Commission and president of the Union League of Philadelphia when the Republican Party nominated him for governor on May 21, 1918. The independent Washington Party also endorsed Sproul as their candidate. Sproul easily defeated his Democratic opponent, Eugene C. Bonniwell, by more than 247,000 votes. Minor candidates, such as the flamboyant E. F. Fithian of the Prohibition Party, garnered little more than 47,000 votes. On January 20, 1919, he resigned from the senate, after a service of twenty-two years in that body, and, on the following day, was inaugurated as governor.
One of the early actions of Governor Sproul was to declare April 11 and April 25, 1919, as Arbor Days. Thousands of trees were planted in Pennsylvania as a memorial to those killed in World War I, as well as to replenish state forests depleted by decades of industrial logging. The Sproul State Forest in western Clinton and northern Centre Counties was named after the governor. Sproul is also credited with expanding and improving public education, bringing relief and care to disabled war veterans, a major reorganization of the executive branch of state government, peaceful settlement of both the steel strike of 1919 and coal strike of 1922, and the administration under which the state Department of Public Welfare was created. He served as chairman of the Delaware River Bridge Joint Commission with New Jersey that planned the construction of a major link between the two states, completed on July 1, 1926. He also served as the first chairman from Pennsylvania of the National Governors Association, 1919 to 1922.
In 1920, Sproul was offered the nomination to become the presidential running mate of Warren G. Harding, but he declined. Had Sproul accepted a role as vice president, it is probable he would have become president of the United States assuming Harding had still died in office. Instead, Calvin Coolidge stepped into that role.
After Sproul left office, he devoted himself to his businesses and to humanitarian interests. He was a member of the American Philosophical Society, the Religious Society of Friends, and the Phi Beta Kappa Society. Sproul, although a millionaire, died intestate on March 21, 1928, and is buried in Chester Rural Cemetery, Delaware County.