Governor John Kinley Tener
Term
January 17, 1911 - January 19, 1915
Affiliation
Republican
Born
July 25, 1863
Died
May 19, 1946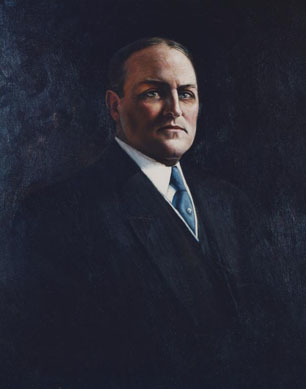 Photo courtesy of Capitol Preservation
Committee and John Rudy Photography
Biography
A scandal related to in the new state Capitol Building threatened to end the Republican Party's longtime control of the governor's office. Republicans needed a candidate whose integrity, honesty, and record were above reproach. John Kinley Tener was such a man. Tener was the first of ten children, born in County Tyrone, Ireland, on July 25, 1863, the first post-Revolution governor born outside of the United States and only the second governor not a native of Pennsylvania. Tener was the first of ten children of George Evans Tener, a native of County Tyrone and Susan Wallis, a native of Nottingham, England. In 1872, George Tener died and the remaining Tener family left Ireland in 1873 to join other relatives already settled in Pittsburgh. Shortly after their arrival Susan Tener died, leaving young John to move in with his older married sister Maud.
Tener attended public schools in Pittsburgh while developing an interest in baseball. In 1881, he secured employment as a clerk with Oliver Brothers and Phillips, but by 1885, at six-feet, four inches, and an athletic 180 pounds, Tener began playing minor league baseball as an outfielder in Haverill, Massachusetts, with the New England League. During his stay with the Haverill team, Tener met Harriet Day, a resident of Charleroi, near his hometown of Pittsburgh, but then living in New York City. They were married on October 29, 1889.
Tener made a brief major league debut in one 1885 game with the Baltimore Orioles of the American Association League. He continued to work in the corporate world as an officer with the Chartiers Valley Gas Company in 1887, followed by the Chambers and McKee Glass Company. From 1888 to 1889, Tener had moderate success as a pitcher for the National League's Chicago White Stockings (today the Chicago Cubs) and traveled on an international tour with the team, serving as a player and team treasurer. Even in the early days of baseball, there were salary disputes among players. After returning home from the international tour and discovering league salary restrictions, players took action and Tener was elected secretary of the Brotherhood of Professional Players. Tener jumped to the Players League in 1890, but the league folded after one season and Tener decided to retire from baseball.
In 1891 Tener became associated with the First National Bank of Charleroi, in northeast Washington County, first as cashier and by 1897, as the bank's president. He was identified with a number of other manufacturing and industrial operations in and about Charleroi and was treasurer, as well as one of the organizers of the Charleroi Savings and Trust Company. In 1904 he was elected grand treasurer of the Benevolent and Protective Order of Elks and in 1907 became the national grand exalted ruler of that organization. He was also a Mason and a member of the Duquesne Club of Pittsburgh.
In 1908, respected as a former athlete, an executive in the banking community, and active in the fraternal service community, Tener was elected to the U.S. House of Representatives from the twenty-fourth Pennsylvania district, comprising Washington, Lawrence, and Beaver Counties. During his one term in Congress, Tener took a prominent part in the activities of the Rivers and Harbors Committee. Tener also organized the first congressional baseball game in 1909. Although played sporadically over the years, by 1962, the Democrats vs. Republicans baseball game had become an annual tradition.
In June 1910, Tener was renominated for Congress, but two weeks later he was the unanimous choice for governor at the Republican Convention held in Harrisburg on June 22. Tener's reputation, untarnished by the Capitol Building scandal, helped the Republican Party to take advantage of a divided Democratic Party. Democratic opponent D. Webster Grim placed a distant third at 129,395 votes to Tener's 415,614 votes. In second place was former Democratic State Treasurer William H. Berry, who gained the public's admiration by blowing the whistle on the Capitol project's graft and corruption. Berry ran independently as a gubernatorial candidate for the splinter Keystone Party and received 382,127 votes. Tener, referred to in the campaign as "Popular John," was elected on November 8, 1910, and was inaugurated on January 17, 1911.
One of Governor Tener's first actions was a reform of the public education system. Tener believed that education, the assimilation of immigrants, and the availability of a competent workforce are essential to a healthy twentieth century democracy. A new law required that school districts be established according to municipal boundaries and divided into four classes to match the population sizes of communities. At the same time, these new governing bodies were authorized to levy taxes, issue bonds, contract construction, and make other necessary decisions. Along with this, a State Board of Education was established along and new requirements for minimum teacher salaries, specific courses to be taught, and a mandate that students, regardless of race or color, between the ages of eight and sixteen, attend school. Two years later, a vocational education statute was passed to create "industrial, agricultural, and household arts schools or departments."
Tener joined forces with former Governor James Beaver and other officials to promote improvements in the state's roadway system. The General Assembly of Pennsylvania responded in 1911 by passing the Sproul Highway Bill that expanded the role of the Pennsylvania Department of Highways, created in the Samuel W. Pennypacker administration, and assumed responsibility for nine thousand miles of public roads, formerly maintained by local and county governments. To fund the $50 million necessary for the programs, Tener proposed issuing bonds, but the voters rejected the idea. The solution came in 1913 when the governor signed Act 207 that designated a funding stream from motor vehicle registrations and operator licenses.
The state Insurance Department was created in 1911 and outdated insurance laws were updated. Consumers needed more guarantees that insurance companies would compensate policyholders in the event of loss. Those actually selling insurance products began to be licensed by the state. Another agency created in 1913 was the Public Service Commission (today the Public Utility Commission) to oversee utilities, railroads, streetcars, telegraph and telephone companies, ferry and canal companies, sewerage service providers, and municipal corporations providing public services. Pennsylvania continued to be a national leader in the growth of industry, but there were also needs to protect workers from harmful exploitation, hazardous working conditions, and child labor violations. The Department of Labor and Industry was created in 1913 about the same time as the U.S. Department of Labor headed by Pennsylvanian William B. Wilson. A state workmen's compensation bill guaranteeing payment to workers injured on the job was drafted, although not completed during the Tener term.
The Pennsylvania Historical and Museum Commission was created during the Tener administration in 1913 and charged with "marking and preserving the antiquities and historical landmarks of the Commonwealth." Tener kept busy signing into law a new requirement for hunters' licenses; outlawing the use of waste from outdoor toilets for fertilization; licensing and oversight by local officials of public amusements following a disastrous Boyertown opera house fire that killed 170 people in 1908; a revision of the state divorce code; a protection of people after death by making grave-robbing a felony; and the county-issued licensing of dogs, although it granted law enforcement the authority to kill any unlicensed dog. Another reform in 1913 revised the death penalty. This brought an end to hanging as a method of execution and established electrocution, centralized at the new Rockview Penitentiary in Centre County. The first electrocution did not take place until the next gubernatorial administration.
Governor Tener, a supporter of women's suffrage, proposed an amendment to the state constitution to give women the right to vote, but the referendum was not placed on the state ballot for voters. Voters did decide, by a winning margin of 119 votes out of 408,000 cast, to reject a graduated income tax.
After his term in office, Tener returned to private business and continued his interest in baseball. Tener became the first former player to become president of a major baseball organization, the National Baseball League, serving from 1914 to 1918, a position he served without pay until his gubernatorial term ended in 1915, but he resigned from the league over a player's contract. Following World War I, Tener served in the U.S. Commerce Department helping to provide assistance to the war torn European continent. Tener was also president of the W. J. Tener Insurance Company and of Tener, Lowry & Company of Pittsburgh. In 1926, Tener's name was again placed into the gubernatorial nomination at the state Republican Convention, but Tener did not actively campaign and placed third in balloting. Tener had one more association with baseball in the 1930s as a director for the National League's Philadelphia Phillies.
Following the death of his wife Harriet in 1935, Tener remarried Leone Evans of Charleroi on August 11, 1936. John K. Tener died in Pittsburgh on May 19, 1946, and is buried in Homewood Cemetery, Pittsburgh.