Governor William Alexis Stone
Term
January 17, 1899 - January 20, 1903
Affiliation
Republican
Born
April 18, 1846
Died
March 1, 1920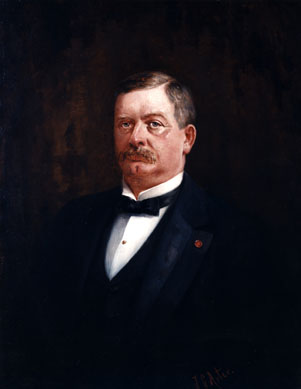 Photo courtesy of Capitol Preservation
Committee and John Rudy Photography
Biography
When President Chester A. Arthur fired William Alexis Stone in 1886 as western Pennsylvania's district attorney because Stone campaigned on behalf of political candidates, the publicity worked to the benefit of Stone's political career. Stone was born in Delmar Township, Tioga County, April 18, 1846. His father, Israel Stone, was a farmer, and his mother was Amanda Howe, a Presbyterian. Stone's early life was remarkably similar to his predecessor, Governor Daniel H. Hastings. Stone's family was also poor and could not afford to send him to school, so William continued to work on his father's farm.
In August of 1863, following the July victory of the Union Army at Gettysburg, Stone, although not yet of age, ran off with a number of other boys to Harrisburg and joined the volunteer army. However, his father exerted his parental authority to prevent his underage son's military venture. Stone was discharged and returned home. When he turned eighteen he again enlisted as a private in Company A, 187th Pennsylvania Volunteers, the "Keystone Brigade." Two of the unit's most noted engagements began in June 1864, first at Cold Harbor, Virginia, where another future governor fought, James A. Beaver, and between June 16 and September 22 during the siege of Petersburg. Promoted several times through the rank of first sergeant, Stone was commissioned second lieutenant on March 10, 1865. Stone was mustered out following the war on August 3, 1865. After the war Governor John F. Hartranft appointed him assistant adjutant general of the Thirteenth Division, National Guard, with the rank of lieutenant colonel.
The cost of an education remained a financial barrier to Stone's family, but the principal of the Mansfield State Normal School, Tioga County, afforded him the scholarship opportunity, which he eagerly accepted and graduated with honors in 1868. In October of that year, he was hired as the principal of Wellsboro Academy and taught there, while at the same time studying law under the direction of Stephen F. Wilson and Jerome B. Niles. In August 1870, Stone was admitted to the bar and on August 18 of that year he was married to Ellen F. Stevens (ca. 1850-1878) with whom he had two children. Ellen died in 1878 and the following year, Stone married Elizabeth B. White (1853-1919) with whom he had six more children.
In 1872, Stone began his political climb to power in Harrisburg when he was appointed transcribing clerk for the state House of Representatives. Two years later he was elected district attorney of Tioga County, but resigned in 1876 to move to Allegheny County. Although he was relatively unknown there, he quickly earned an excellent legal reputation through several court trials. In 1880, noticed by President Rutherford Hayes, Stone was appointed district attorney for the Western District of Pennsylvania and reappointed by President Chester Arthur in 1884. In 1886, however, Stone refused to obey President Arthur's orders to office holders that they avoid campaigning for political candidates. Instead, Stone went on the stump for General James A. Beaver's gubernatorial bid. The president removed Stone from office, an action that seemed to improve Stone's public popularity. He resumed his law practice until he was elected to Congress from the Twenty-third District where he served for four terms.
In 1898, Stone made his own successful bid for the governorship. Republican political boss, Matthew S. Quay, and wealthy Philadelphia merchant John Wanamaker were embroiled in a feud, but Stone, Quay's choice, prevailed over Wanamaker's candidate, Charles W. Stone (no relation). Stone, with 476,206 votes, defeated Democrat George A. Jenks, who had 358,300 votes, and Prohibition candidate Dr. Silas Swallow, who picked up 132,931 votes. During his term in office, Stone received intense criticism for appointing Quay to the U.S. Senate, despite Quay being under indictment for misappropriation of state funds. The Senate rejected Quay's interim appointment, but after exerting his powerful influence to gain the Republican senatorial nomination, he was elected to return to Washington.
One of Governor Stone's leading accomplishments was the elimination of a three million dollar debt that had been hanging over state government. It was also during the Stone administration that a commission was awarded on February 25, 1902, to architect Joseph M. Huston for a new state capitol building to replace the building destroyed by fire in 1897. The building was completed during the Samuel W. Pennypacker administration, which succeeded Stone.
After leaving office, Stone joined his son Stephen in a law practice. He later served as prothonotary of the state Supreme Court in 1915 and the state Superior Court in 1916. William Stone died on March 1, 1920, and is buried in Wellsboro Cemetery, Tioga County.