Religious Architecture
Religious Architecture -Associated components can be of any style or type as long as they were constructed within the postwar period. Church and synagogue design "reflected the era's tension between embracing all things modern and ecumenical while at the same time, preserving tradition. Religious architecture, once among the most tradition-inspired forms of the built landscape, tranistioned rapidly after World War II from the Interwar Revivalism to a near standardized model of religious buildings in the 1950s based on a fusion of various modern styles with features going back to the roots of ancient and Medieval worship. Catholic, Jewish, Orthodox and a wide range of Protestant congregations constructed buildings that looked remarkably similar - even interchangeable. As modernism continued in liturgy, theology, and design, these groups ventured into constructing more experimental and nontraditional designs by the early 1960s." [1]
[1] Wichita State University, "Postwar Religious Architecture".
Identifiable Features
Can be a fusion of architectural modern or revival styles
Ample space for parking
Set back from street if space permitted
Roof pitches will vary dependent upon style
Photos
Click any image to enlarge.

Example of Religious Architecture - Associated Component - Delaware County

Example of Religious Architecture - Associated Component - York County

Example of Religious Architecture - Associated Component - York County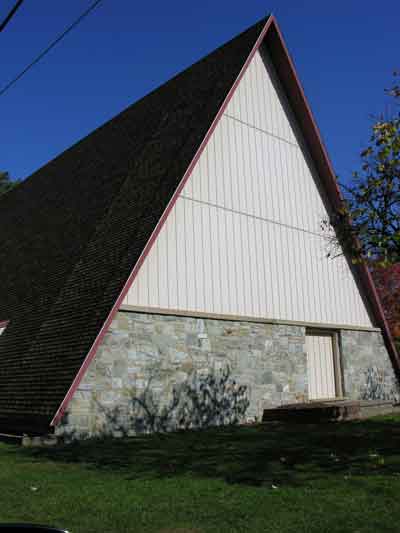 Example of Religious Architecture - Associated Component - York County