Basement Barn
The Basement Barn (sometimes also called a "raised basement barn," "raised barn," "raised three-bay barn," or "Northern basement barn") is essentially an English Barn raised up on top of a full basement. The Basement Barn is therefore not usually built into a bank, even though there may be a bridge or ramp giving access to the upper level. The lower level usually has a lengthwise central aisle, and stanchions for dairy cows. There are gable-end doors, usually one in each end. Off-center windows in the gable end can indicate where the stable area is located.
The most common location for these barns is across the road from the farmhouse, with the eaves-side entrance just off the road. These barns frequently had gambrel roofs for extra hay storage, even in the nineteenth century. They are different from the Pennsylvania Barn in that they lack the projecting forebay, and the lower level extends underneath the entire length and width of the building. Also, the original interior arrangement of the lower level is usually lengthwise rather than crosswise.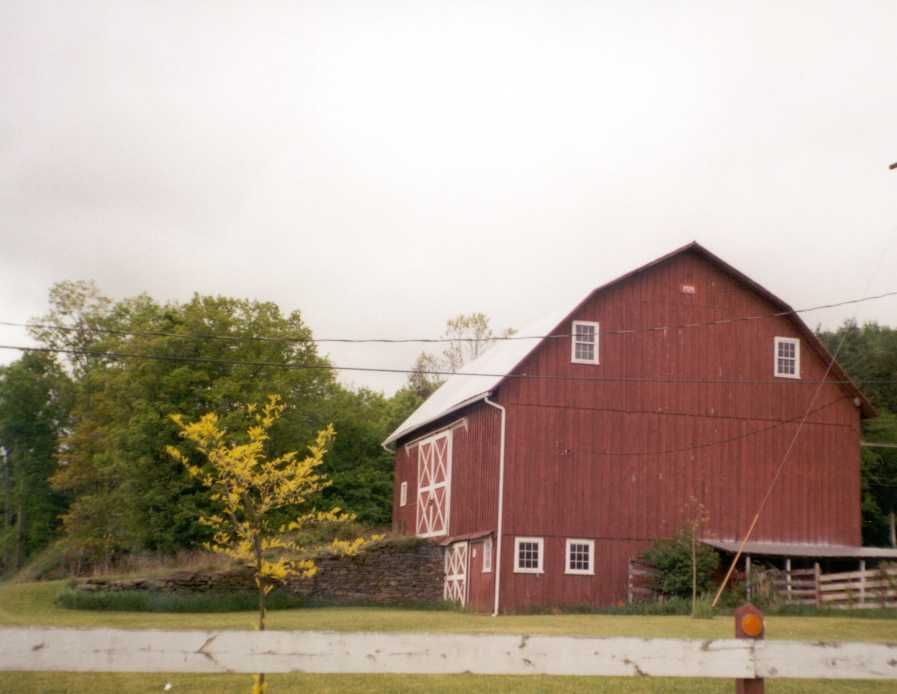 Basement Barn, Tioga County, c. 1920
This basement barn photo shows the characteristics of a full basement, a three-bay
upper level, a ramp to central threshing floor, and a gambrel roof.
The Basement Barn represents the rise of dairying within a grassland environment. It appears statewide, but most frequently in the Northern Tier, Northwestern Pennsylvania, and Southwestern Pennsylvania regions. Occasionally it can be found in the Allegheny Mountain region as well.
Its upper level afforded ample hay storage for dairy cows and central floor for threshing and machinery. Below, a longitudinal central aisle flanked by rows of stanchions provided for orderly feeding and milking of dairy cows. Stalls provided for young, sick, or pregnant cows. Other animals were usually sheltered elsewhere. Windows provided light, thought essential for animal health. Thus a traditional form on the upper level is combined with a modernizing organization on the lower. This barn type represents both the era of home butter-making, in which women's labor was very important, and the turn-of-the-century rise of fluid milk production.
In Southwestern Pennsylvania, a distinctive variant of the Basement Barn appeared during the peak of the sheep raising boom. These barns had the typical configuration of a Basement Barn – a three-bay barn atop a full basement. The most visible adaptations that seem to have been designed specifically with sheep in mind had to do with ventilation. Louvered window openings, roof ridge ventilators, and sometimes additional latticework under the eaves provided the air that sheep needed. In addition, rows of windows on all sides of the stable level were consistent with sheep raising as an important function. Inside, these barns had enough room to accommodate not only sheep but also cattle and horses; hay; machinery; sometimes grain; and possibly wool storage and shearing space. Wool storage space would be characterized by tight sealed boards and window lighting. Also, the lower stable area often was not paved over.
For further analysis of the Basement Barn, see Henry Glassie, "The Variation of Concepts Within Tradition: Barn Building in Otsego County, New York," Geoscience and Man, volume V, June 10, 1974, pp. 177-235.

Basement Barn, Tioga County, c. 1925
This basement barn clearly shows how the three-bay form is superimposed on a basement.
This barn has a shed extension, but no forebay. It has a gambrel roof. Access on the
upper level is via sliding doors in the eaves wall, and the upper eaves side is banked.

Basement Barn, Washington County, dated 1883.
This barn has a ramp to the eaves-side upper level and
the full basement that characterize the Basement Barn,
but with added ventilation and lighting for sheep raising.

Basement Barn, Green Township, Indiana County, c. 1880-1900.
(Site 063-GRN-006)