Milk House
A milk house is a small structure used expressly for the purpose of isolating fresh milk from the smells, dust, and microbes of the barn environment. While the earlier springhouse housed and cooled fresh milk and provided a space for letting cream rise and for churning, the milk house is a twentieth century phenomenon. A springhouse would be located over a stream or spring, but a milk house would normally abut, adjoin, or sit near the barn. A milk house would also be sited conveniently near the roadside for easy pickup of goods. The milk house was a small (typically ten or twelve feet on a side) structure with a square or rectangular footprint. Construction materials were often masonry, including concrete block or rock face concrete, but sometimes frame. Most milk houses have gabled roofs, but some have a shed roof or pyramid roof.
Milk houses provided a place to store and cool fluid milk before it was transported to market; to store milk cans not in use; and to wash and dry containers (and sometimes other equipment like separators). Plans offered by the USDA for farm milk houses typically gave dimensions ranging from about 10x13 feet up to around 12x20 feet. Another small, 12x14, one room milk house (#1341, see illustration) was designed for "butter making by hand" for 20 cows. It contained the same basic spaces, but not divided. The very smallest, at 7x9, had a concrete foundation with drains, and provision for ventilation and light.
Actual milk houses on farms that were surveyed tend toward the smaller end of this range. While many are free-standing, gabled structures, shed-roof barn extensions are also common. The most common material for construction is concrete block. Milk houses are found everywhere in the state. Milk houses are quite ubiquitous in the Northern Tier Grasslands Region and the Northwestern region, because the transition to fluid milk dairying for big-city markets was made so early. They are also frequently found in the southeast. They appeared later in the Central Limestone Valleys, and are less common in the North and West Branch Region, where dairying did not gain hold until rather late, and in pockets, rather than in a wide area.
The milk houses should be interpreted as a symbol of the expanded role of the state farming system. By the early twentieth century, municipalities had begun to regulate in the name of public health. Large milk markets like New York City, in an effort to curb the spread of diseases such as tuberculosis and to ensure clean, fresh, and unadulterated milk supply, began to demand that farms producing fluid milk erect separate spaces to isolate the milk from the barn. The agricultural establishment promoted these changes as well, through research into bacteriology, and also by supplying model plans for the buildings themselves. The milk house therefore is a building type that has a much more standardized, less regional appearance than other, earlier outbuilding types. The milk house also symbolizes the shifting gender distribution of labor in dairying. While many farms continued to produce butter - made primarily by women - milk houses signified a shift to fluid milk sales, a branch of dairy work that became more associated with men. It was still very much a family enterprise, but with a strong association of women with butter-making removed, women's role in dairying was increasingly regarded as ancillary, rather than central.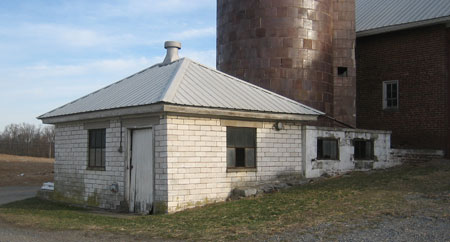 Milk house of hollow tile, Washington Township, Franklin County, c. 1930.
(Site 055-WA-002)

Milk house design, USDA, c. 1929
(Design No. 1341 from Farm Building and Equipment Plans and Information Series,
USDA Office of Cooperative Extension Work and Bureau of Public Roads, 1929, not paginated)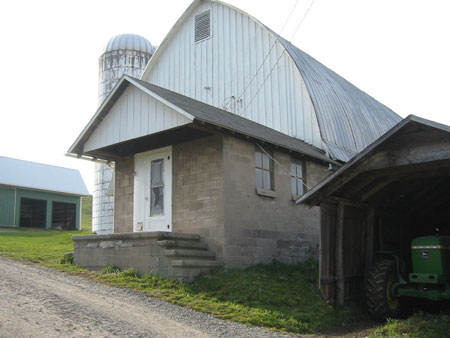 Milk house, Morris Township, Tioga County, c. 1950-70.
(Site 117-MO-002)